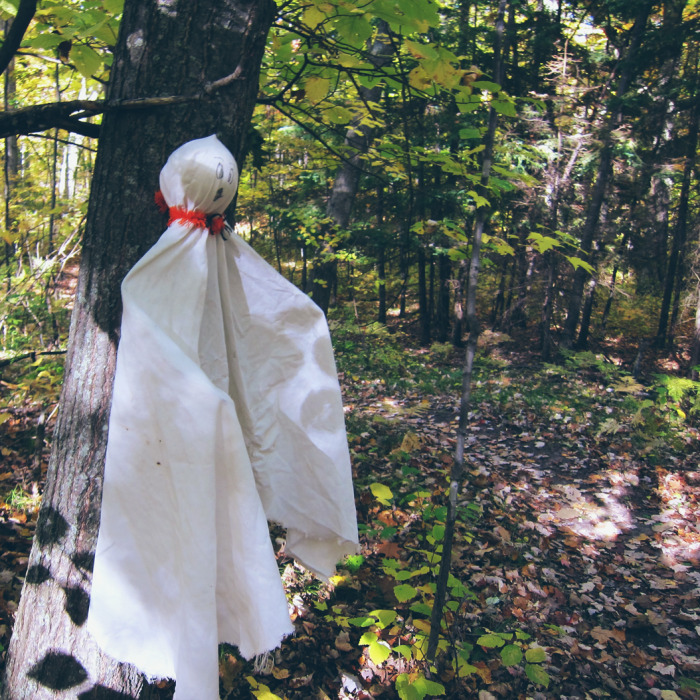 After Friday's sandy slug-fest aboard the Farley, I spent Saturday being a soccer dad and then later hanging out with Wifey watching bad TV and drinking a few beers. On Sunday I did the whole soccer dad thing all over again, but afterwards headed up to MMCC for a lap on the Superfly.
There is nothing quite like spending a week riding a fat bike then switching to a carbon, full suspension race bike. It felt really, darn OK and it was great to get out and enjoy a semi-warm and sunny fall Michigan day, especially since I think it's supposed to be nasty all this week. Great.
The only downfall to the ride was seeing one section of trail done up with ghosts, gravestones and other Halloween type accoutrements as the college readies for the "haunted trail" thing they do every fall for kids. Nothing against Halloween, I just hate seeing the stuff 'cause it reminds me that the Tri-Fecta of Misery that is Thanksgiving, Christmas and New Years will soon be here, followed by four to six months of cold, dark, Hoth-like weather (depending on what Ma Nature decides for Michigan in Winter 2014/15). Sigh.
Hoping, praying, and crying into my pillow that having a worth-while fat bike to ride and race will help ease the pain of the coming winter… well, that booze, antidepressants and if I can get my hands on some; horse tranquilizers.
Speaking of racing and the coming winter, the Northern Michigan Fat Bike Series Festival of Lights race at Timber Ridge on December 21st will MOST likely be my first fat race of the season. Still have to see what races Fun Promotions does this year and weigh the options (distance, price, etc.,). Not matter the event, after a season of little riding and racing I sure to put on one hell of a frozen shit show. Stay tuned for all that.
Riding may be sparse this week, so blogging will be too [collective groans now heard internet-wide].
Later.