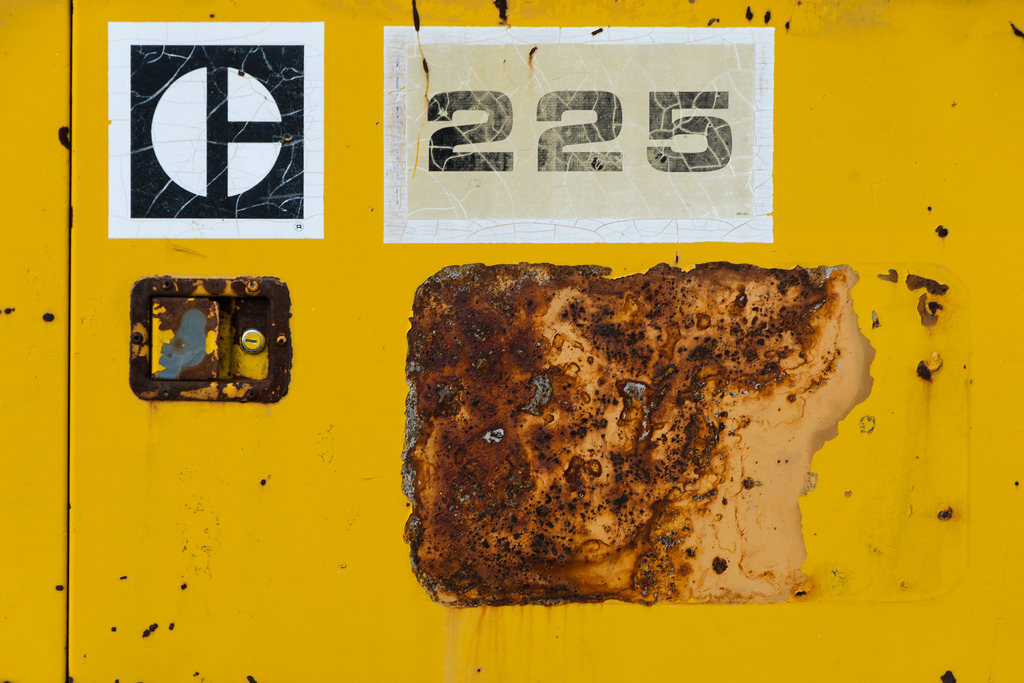 Heaven, earth, hell, multi-dimensional planes, planets, and universes lined up on a crisp and cool Tuesday morning to make the love making-like magic of a slow rolling dirt road ride happen. Joy to the f-ing world.
I slept like a rock and woke up Tuesday morning groggy and wishing for more sleep beyond my 5:59 AM wake-up. As I shuffled off to the bathroom to empty out and brush up, Wifey say's "You know B doesn't have school today, right? It's election day and his school is closed." ALRIGHT NOW!! (Said in loud Ozzy-like voice, like at 2:30 of Sabbath's Fairies Wear Boots).
With that, I returned to the Chamber of Farts and two hours of additional, unexpected slumber. A slumber that I would awake from feeling more tired and stiff that I did two hours prior. As my Grandma Helen used to say "It's hell gettin' old."
After some eBay business to confirm (finally sold the Sony RX10 III that I fell in and out of love with within a 72 hour period), a couple cups of coffee, and a quick breakfast I was soon out into cold, but sunny, morning to finally get some miles in.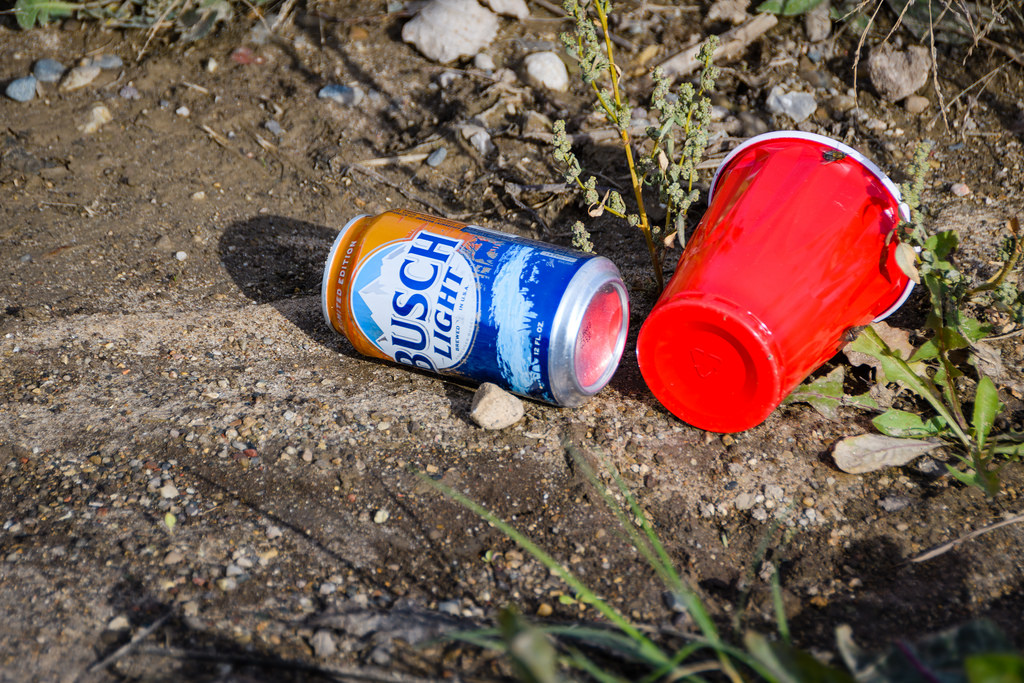 One day without riding feels good, I like a break. Two days without riding and I'm ready to get back at it and I'm missing both bike and camera. Three days without riding and I start finding other stuff to occupy my time during the increasingly cold mornings. By the fourth day, I feel like a sloth and know that I HAVE to ride, for the sake of my growing belly and double chins I need to get in the saddle. So I do, and it feels like hell. I feel stiff, unenthused, tired, and cold. It takes about two miles and the first hill false flat before I start to break free from the Fourth Day Cruds.
Pedaling northward I was heading into a north-west wind. Not a great way to start a ride but made better with the knowledge that I would be pushed home by the same winds. I'm OK with that.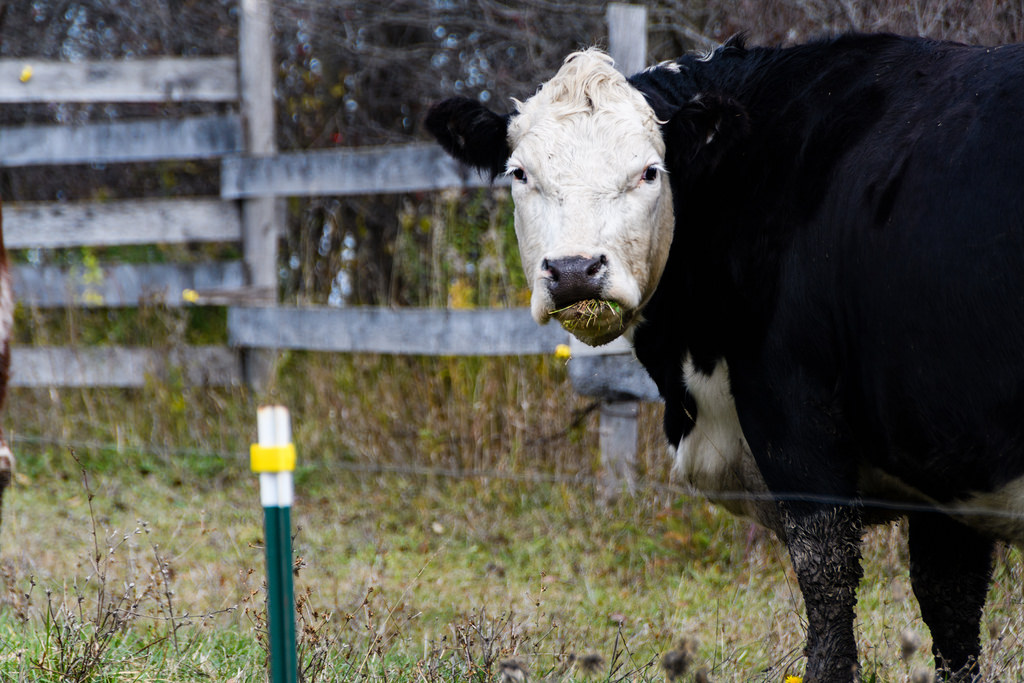 The highlight of the ride, was meeting the dog that bit me back in 2012 and sent me to the ER for a tetanus shot. As I was heading down Denver Road I saw a man (dressed completely in hunting camo) and his dog along the road. I stopped and said hi, and asked the man if that was his dog. He said it was, so I relayed the story of how I was the guy that got bit by the dog a few years ago when I was riding by and had to report it to Animal Control (as per hospital protocol). He apologized for the incident and I assured him there are no hard feelings. The dog's name is Hunter. He's way more laid back these days and I spent a minute or two petting him and letting him sniff me. There were no bites doled out by either of us and hopefully never will be again. I have finally forgiven him for the bite and sending me to the ER. We're solid now.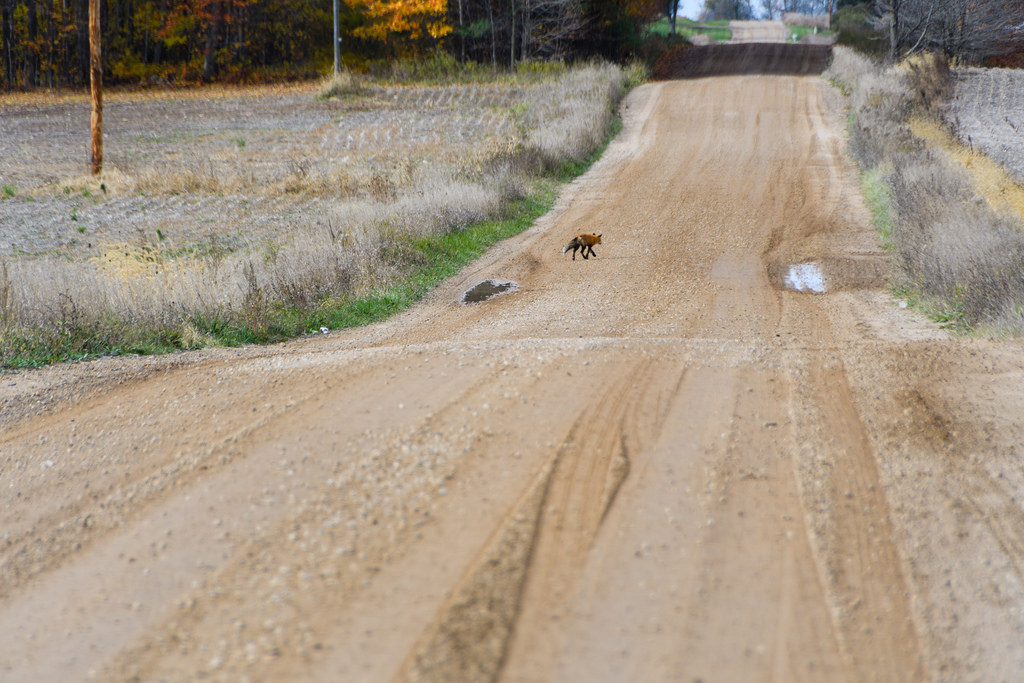 I continued on but stopped just about a quarter of a mile later to watch a fox that was scampering down the road and into the freshly mowed down farm field. This is the second time I've seen the fox on that same bit of road. Pretty sure its den is in some scrubby bushes in the field on the north side of Denver Road. Hope to see it again the future.
The only other highlight was seeing a buck running across Jordan road about where it intersects with Meridian Road. I wish I could have got a photo of him because he might have been the biggest buck I've ever seen in person. A giant rack, rippled with muscle and hauling ass over the barren field. I half expected to hear a bullet whizzing by me at any time. No buck photos, but I did get the cow below.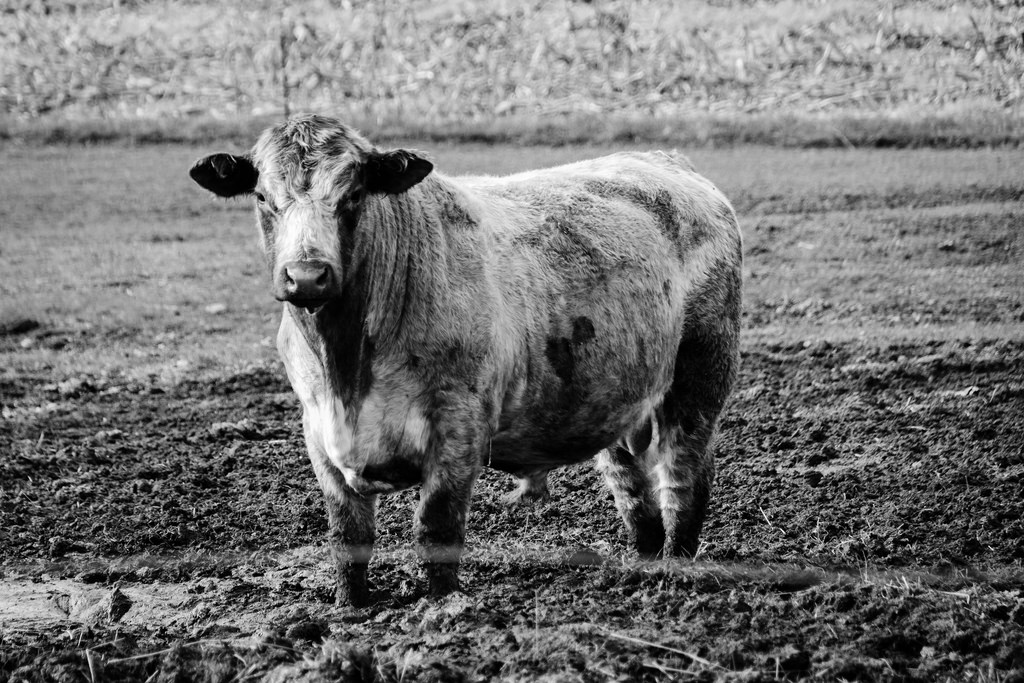 I fully admit that once the ride time temps start dipping below freezing my desire to pedal is about the same as my desire for gonorrhea, so I'm not gonna sit here and write about how I rode some long and amazing gravel adventure, that would be fiction in its purest form. It was a borderline crap 25 miles on the bike, 97% of which was on gravel, and I took a few pics. Fortunately, my desire to limit further stomachal1 growth and my last shreds of vanity outweigh my want to be under a warm blanket or sweating all over myself on a treadmill.
Later.