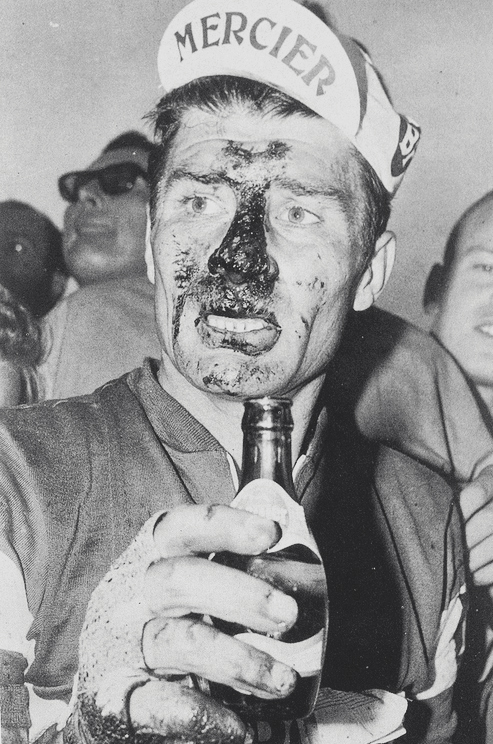 Raymond "Bad Luck Badass" Poulidor, 1968 Tour de France.

This post takes a few different views of Raymond Poulidor's crash on Stage 15 (Font-Romeu-Odeillo-Via to Albi) of the 1968 Tour de France.

Above we have your standard post-race blood caked nose Perrier guzzle (while the bloody face was a bonus, the Perrier guzzle seemed about par the course in that era, see photo of Eddy Merckx posted back in October).

Then we have some video

While there are no shots of the crash happening, you do see Poulidor being tended to by the race doctor (about 3:15) and some post race footage of the above mentioned bloody Perrier guzzle (about 5:16).

Keeping it in '68, we get a shot of Raymond Poulidor looking in mirror saying "What le fucking hell? Look at this shit!"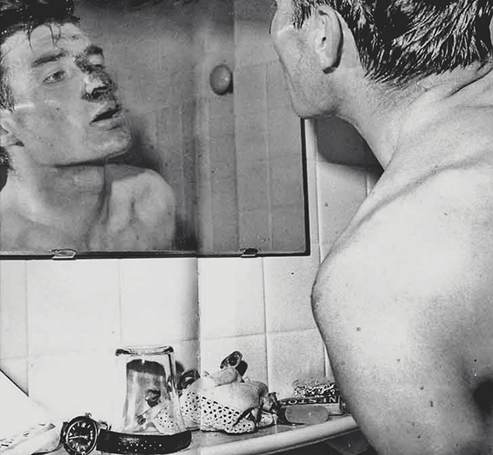 Not from 1968 but still bloody! It seems that along with coming in 2nd in the Tour, Poulidor had quite the habit of grinding is face into the road, doing so once again in Stage 13 of the 1973 Tour. I don't know how his skull stayed intact over the years.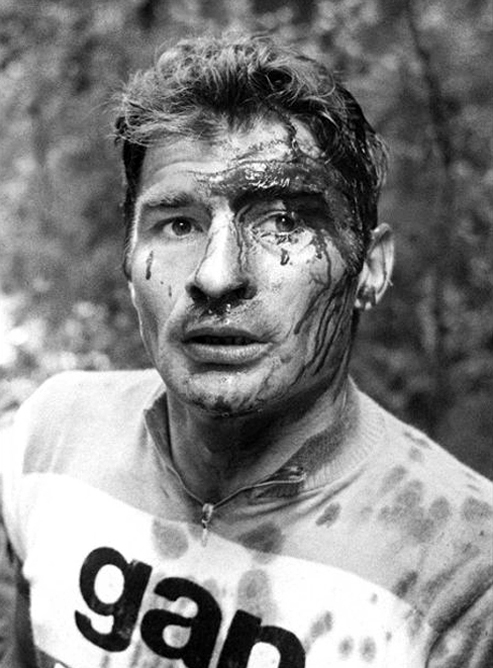 All this just goes to prove, that despite the popular belief amongst non-cyclists and assholes, bike racers (road, mountain, cross, track, etc.,) are indeed badasses. It also goes to prove that the Internet is more than just porn… it's also being able to post photos and video of tough old bike racers so as to celebrate their badassness.
It also goes to prove that Ray-Ray's face bounced back (a bit) and he went on to pimp hair spray.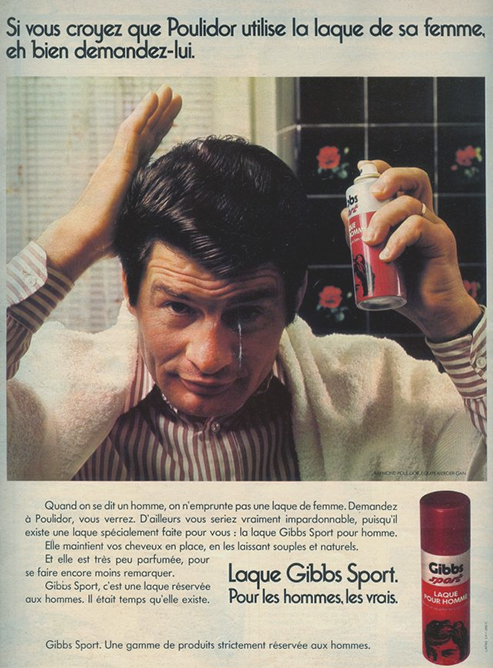 For some further insight check out the posts about Raymond Poulidor on cyclingart.blogspot.com and on inrng.com.
Not the original photographers, but where I found the above photos:
Top Photo: Flickr, ddsiple
Video: ina.fr
What le fuck photo: via cyclingart.blogspot.com
Bloody face II: newyorker.com
Hairspray Ad:  inrng.com