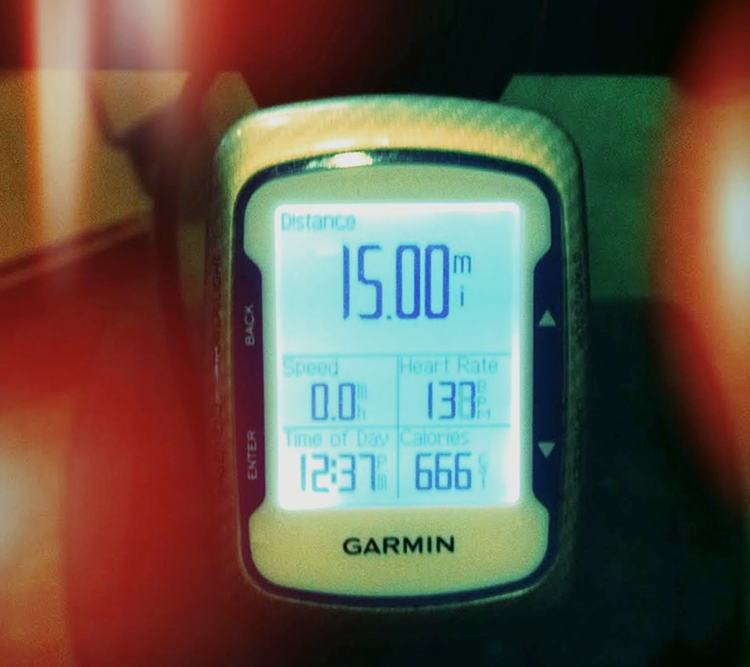 Today's fifteen mile time trial on the trainer left me with an evil amount of estimated calories when I stopped. No man should blog about being on the trainer, but I will anyway…
I didn't really plan on doing a TT (AKA, a ride at threshold for fifteen miles) today since I am just now fully recovered from the snot-tastic cold I got for Christmas, but after the first five miles I was feeling OK, so I upped the pace and pushed myself harder than I had in a while. The end results were the worst of the five fifteen mile TTs I have done this fall/winter. With that said, I hadn't really planned on doing a "test", I am coming off a head cold, started off slow and just (sort of) ran yesterday, so I think I am OK with it. In the end I equaled my average heart rate, burned more (estimated, probably way off) calories and was able to get my heart rate higher than it has been thus far for a TT. [As you can see, I have NO problem grasping at straws in order to justify being a fat slacker who make a big deal about doing a ride on the trainer].
With the pending New Year's holiday and B-Man on Christmas break until Monday, this week will be all over the place as far as me "doing stuff." Since the gym (Maury Ballstein's Fitness Center) is closed on Wednesday for the New Year's holiday, I figured there was no reason to adhere to my normal Monday/Wednesday/Friday strength training schedule. My tentative plan is to hit up Maury early Tuesday and Thursday before Wifey goes to work OR take Wifey up on the offer of her going in early to the office and going to Ballstein's around three. Either way is fine with me. OR I might just say "fuck it" and do more running and trainer work like today's fifteen mile time trial to nowhere. This, as you can imagine, is the more likely scenario.
By the way, thanks to Weezer for the good ride today. Weezer is a band that I can love one minute and the next minute find myself cringing with embarrassment at. Oh well, their good shit still outweighs their suck shit. And by "good shit" I mean goofball rock that you can sing along to and act like you're 15 again as you sweat and spit all over yourself while riding your bike and going nowhere in your basement… nothing wrong with that in my Big Book of Suck.