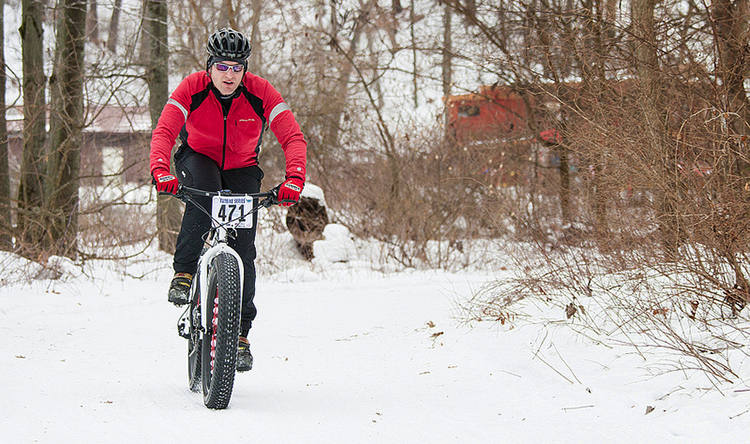 In my old job at XXC Magazine I was a big supporter of fat bikes, it was hard not to be as they were often the chosen steeds for the races and adventures that many of my contributors wrote about in the articles I had the pleasure of working on. Having said that, for my riding I often shunned the idea of riding a fat bike, I never owned one, I still don't own one, and earlier this year when I bought a new bike I opted for a 25 pound, full suspension 29er with little or no consideration given to purchasing a fat bike.
My entire fat bike history was one short spin on a two sizes too small Surly Pugsley in a driveway. I had never ridden–let alone raced–a fat bike until this past Saturday when I did both for the fist time on a borrowed bike, that while a capable enough machine, is not exactly considered top-of-the-line. That was OK with me since I am not really considered a top-of-the-line racer, rider, employee, husband, father, person, etc., etc., etc.,..
My reasons for borrowing a fat bike from my local bike shop on Friday and turning around and racing it on Saturday was simple: I needed to get outside and burn some calories and I needed a break from flailing around on my cross-country skis. I would be lying if I said I wasn't also trying find out if this fat bike thing was really as fun as all the ginormous tired Kool-Aid drinkers say it is.
So with all that, I found myself at the Pando ski area on Saturday morning to race the first race of the 2014 Michigan Fat Bike Series. The classes broke down into Solo A's (expert), B's (sport/open), Women, 45+ and Duo teams. I do my racing in the Expert and Open classes for XC and endurance events but for this event I opted to race in the B's due to the fact that last year the B's raced two hours and the A's raced three. Since my blood thinners and I are not huge fans of cold weather and this was my first time on a fat bike ever, I opted to race for two hours with the B's. It turns out this year everyone raced two hours, something that I wasn't aware of until I was standing on the line. Oh well, I can suck no matter what class I am in and in the end this proved not to be an issue, I just wanted to call myself out and justify any potential sandbagging accusations.
After getting registered  I went out for a quick lap of the rolling sub-three mile loop to check out my positioning and see how the bike handled. The folks at Pando did a great job of grooming and the snow was nice and packed down and the bike with its four-inch wide tires just floated on top and never dug in like I am so used to happening with my 29er's 2.1 tires. I wouldn't say my positioning on the bike was great, but it would do for a two-hour race in the snow. Soon I made my way down the ski hill descent to the Start/Finish line and a few minutes later we were off and riding.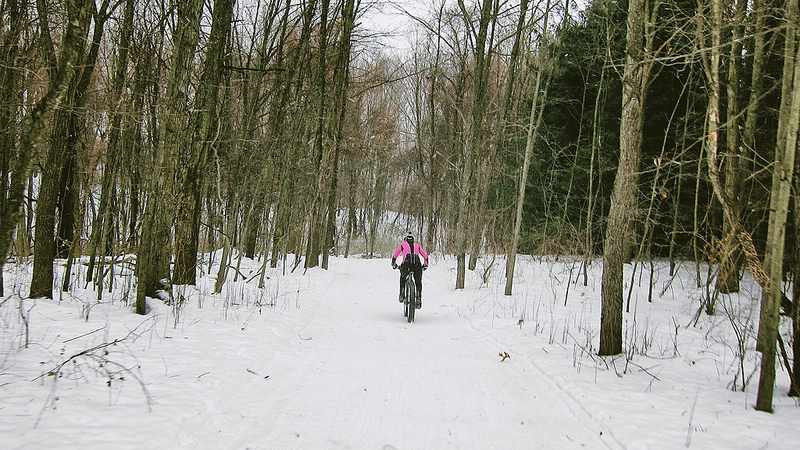 I was not "racing" by any means, just taking advantage of a marked groomed course, testing out the fat bike waters and enjoying being outside rather than on the trainer or in the gym. I also wanted to see what sort of damage I was dealing with fitness wise.
I am no fat bike race expert, but I was enjoying the packed down, wide, rolling Pando course and the bike for all its sub mid-level parts and heftiness was also performing just fine. It wasn't until about lap six or seven that I found myself seemingly crawling all over the beast to force its forty pound girth uphill.
Whether or not I was actually racing and no matter what level of bike I was on, one thing was true: I was indeed having a LOT of fun. In fact upon my arrival home I Twee-turd "today was the most fun I've had outside in the winter with my clothes on in a LONG time" and that was the truth (although I can only think of one time I have been outside in the winter without clothes on and I don't remember having all that much fun until I got IN the hot tub, but that's a whole other story).
Saturday's race was the first time that everything just clicked and felt "right." I was successfully riding my bike through the snowy woods and it felt great

.
I tolerate cross-country skiing, I accept the lack of excitement that comes with snowshoeing and on occasion I will grit my teeth and push myself to ride through the frozen slush and slop of the Michigan winter on dirt and gravel roads, but Saturday's race was the first time that everything just clicked and felt "right." I was successfully riding my bike through the snowy woods and it felt great. I am more than man enough to admit when I am wrong, I have poked plenty of fun at all the bloggers, magazine reviews and manufacture's that go on about how "fun" riding a fat bike is. But they were right, it is indeed fun. I'm still not sure if  I would ever choose to ride a fat bike on anything other than snow or sand, and if I were to ever by a fat bike I don't think I would choose the particular bike I was on yesterday, but fun is fun.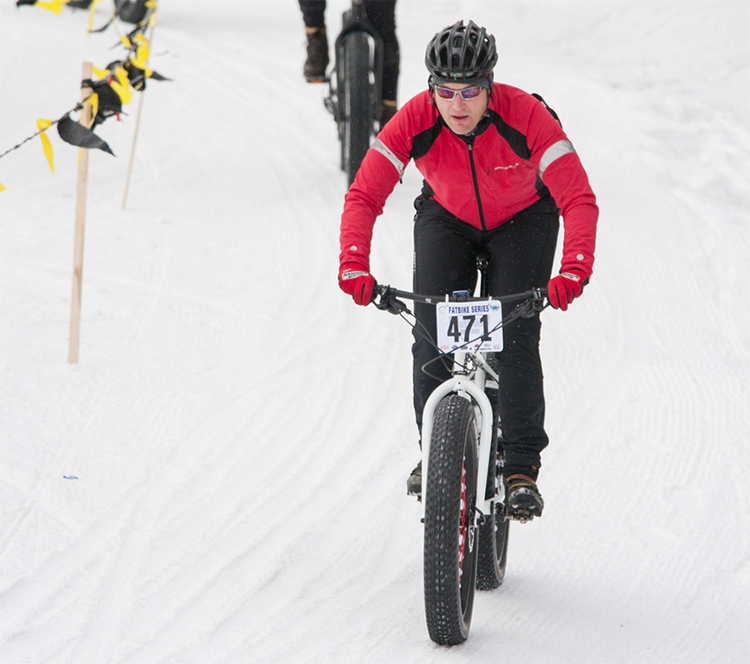 At the end of the two hours I had completed nine laps (initial results had me listed with ten) and thankfully out of contention. None of that matters to me:  I had fun, tested the fat bike waters and minus the last few laps when pushing the beast uphill took  a lot of effort, I felt real good fitness wise. It seems that my time on cross-country skis, on the trainer and in the gym is paying off a bit, despite my continued beer drinking and pizza eating. There is still a lot of work to do and many pounds to try to lose though.
The plan is to race again next week at the Farmer's Fat Bike Race, most likely on a different borrowed bike. This one IS three hours, so I don't know if I will fare quite as well. I may try to get one of my fat bike riding friends to team up for a Duo. We'll see.
Note: I am pretty sure I wrote a journal entry with the same title as this blog post when I was around eighteen years old. I like the content of this entry way better.
Photos: Jack Kunen, jhkunnenphoto.com.
Middle photo taken by me while on course.