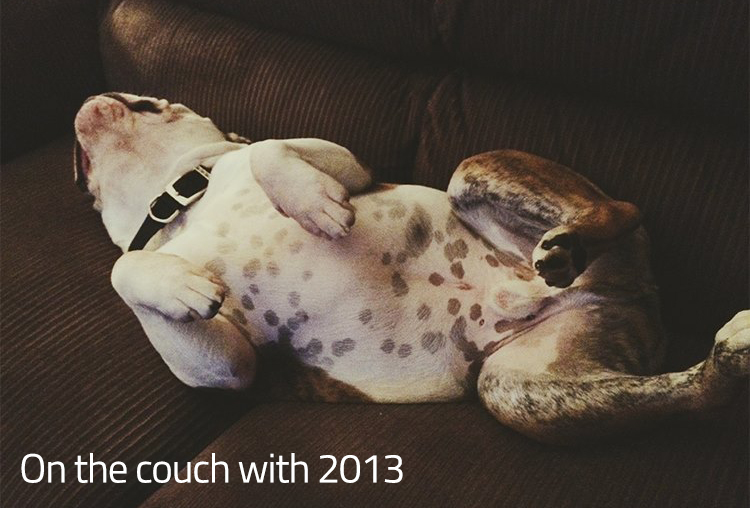 Sorry to get personal here, but I figured since I mentioned my new modest and hopefully attainable 2014 resolutions the other day, I would follow-up on Last year's laundry list of resolutions:
Blog more. I started blogging more and even switched up the way I do it with this new semi-swank wordpress.org site, as well as making some content tweaks. Mission accomplished. Funny how this blog has become such a part of me. Whether people read or not, I have been doing it since 2005, no use stopping now, right? (Don't answer that). Win.
Facebook less: DOH! I did well with this at first then got sucked back in a bit. I don't post as much as I used to but I seemed to have replaced that with Twitter. I never used to like Twitter, but I sort of dig it now. I find on Twitter, there is much more silliness and goofing off and less spouting off about religion, politics or why you think you're a better parent than someone else. I wouldn't call this resolution a success, just different. Fail-ish.
Race more: I started off the 2013 race season with a slow ice and snow riddled Barry-Roubaix, then moved on to a HORRIBLE Rust Shaker XC. Sort of re-grouped for an OK Hanson Hills 50 (except for having to shit in the woods on the first lap) but soon after developed a 3rd DVT. This crushed my motivation until August when I did the X100 (50 mile race). I wouldn't say I did great, but it was a TOUGH 50 mile race and I finished in mid-ish pack form. The only good thing about doing four races all years is realizing that I do dig doing them. So I plan on quite a few more in 2014. Fail.
Work (XXC Mag): I somehow managed to put out one more issue but the amount of time and money invested was just not worth it. I think it was a damn good magazine about a sport I really love. Sadly there were not enough readers, not enough advertisers and not enough folks interested in contributing stories (even for money). To avoid further mental and financial debt I pulled the plug and actually think it was the right decision. Fail.
Work (looking for): I fired up the resume, applied a few places and had one interview for a place that I didn't want to work. I did a few non-paying freelance jobs and clung on tightly to Wifey's successful coattails, praying she doesn't think me more of a dirt bag than I am. (pretty sure she doesn't). Fail.
Ride More: This Had its moments, but the DVT through me for a loop. I still rode at least 4 times a week but nothing to write home about… or blog about (not that it stopped me!). Fail.
Take The Damn Pill: As I mention on last year's post and on the blog in the past I have (and can) suffer from depression. Not the nearly comedic depression of my favorite band ever (The Smiths) and not with a "woe is me, I want to die" depression but with sit in the chair and stare at the wall for hours with no motivation to do anything depression with a twist of being a reclusive dick head. So I took medication for this (a small dose of Lexapro). It helped a lot. It also made me gain weight. And EVEN though I promised Wifey and myself to keep taking it, I stopped. I failed.
Having said that, I have not felt this good in a long time. While I think that not taking the medication contributed in some ways to me ending XXC, I think that in the end the stress of trying to run a magazine and website was the MAJOR player in my moods. While I'll joke about being unemployed and a slacker, I know that I'm not (that) much of one and that my contribution to the family goes beyond a paycheck.
I stopped taking it about nine months ago and mentally I am currently feeling the best I have in a LONG while. While I made some mistakes (like not telling Wifey I stopped taking it until several months after I stopped) it really has been working out for the best and I know that it's there if I need it. There are still lots of things I need to sort out with my life, in these cases a pill won't help. Talking with someone and getting some guidance will. I know what it feels like and if that darkness starts to creep back in, I know what to do, and Wifey knows to scream at me and tell me to get to the doctors. Fail Technically yes, but overall, I am saying no.
Appreciate Wifey More: Oddly enough when I ended the magazine and stopped being so obsessed about it, I found myself recognizing just how much I love and appreciate my wife. Win. At least I think so. You would have to ask my red-headed bosomy gal-pal for the real answer. Win.
Do More For The House:  I did more around the house but more also fell apart and broke. I supposed that's just part of having a house. Until my vote for an apartment comes through I will do what I can. Win.
Stop Caring About What People Think:  This has been a curse of mine since I was a kid. In many ways I am goofball who gives two shits if you like me or care about what I do. On the other hand, in certain situations I fill judged and critized by everyone. This needs more work.
2013 was not my best year, but my goal was to merely make it tolerable, and it was. I could have done without XXC failing and a trip to the hospital with another DVT, but in the end I am taking better, easier to maintain blood thinners and I am at peace with the end of the mag. While none of us know what our future holds, I can at least hope for the best (even if I expect the worst), do what I can to make my family and myself happy and deal with bad shit that comes along as best I can.
Later 2013. It's been OK-ish, but I'm glad to see you go.