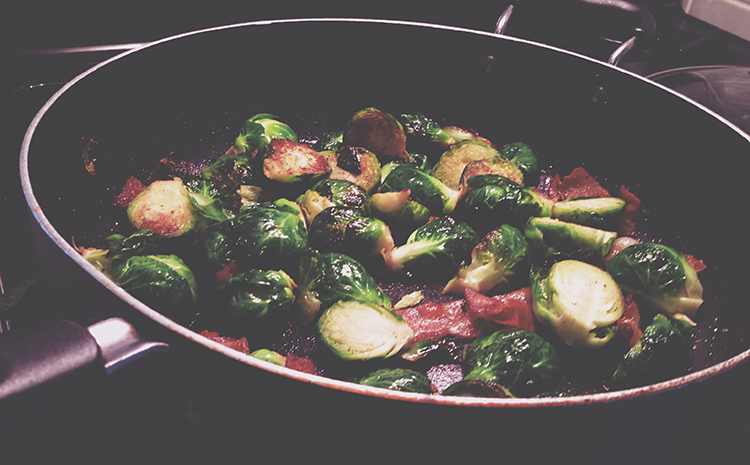 I ate brussel sprouts for the first time in my life just two days ago when I concocted this recipe. I have now had them twice in three days. I guess it's the whole "fat dog, new trick thing." Wait, that doesn't sound right.
I have no idea how or why I never had them before, especially since they are not much more than little cabbages and if there is one thing we bohunks know it's cabbage (and beer).
Wifey has been stir frying b-sprouts up for a while now with just a bit of olive oil and minced garlic (your Irish types like their cabbage too!). The heavenly cabbage-like aroma got my interest and I felt the urge to try them myself and step it up a bit by adding two strips of bacon, a bit of coconut oil and the usual finger-pinched suspects of garlic power, kosher salt and black pepper.
Directions and what not:
Prep time: 5 minutes maybe?
Cook time: 10 to 15 minutes (until tender)
Ingredients: (See above)
Directions:
Using meat scissors (or knife) cut two strips of bacon into 1″ pieces
Fry bacon until nearly done.
Add 12 oz. of  halved brussel sprouts to bacon
Add a bit of organic coconut oil (around a tablespoon or less)
Add a few pinches of shakes of garlic powder and a pinch or two of kosher salt and black pepper
Mix through and stir fry on medium heat until b-sprouts are tender
Stats:
Calories 343
Total Fat 22.3g
Carbohydrates 28.5g
Dietary Fiber 14.1g
Protein 17.4g
Eat. Goes great with some chicken breasts or a couple bunless burgers on the grill.
Notes: I use a 12 oz. bag of Mann's Brussel Sprouts. If you are using loose b-sprouts that's about 20. You could easily get away with just stir frying in the greasy bacon goodness. I add the coconut oil for just a bit more flavor. You could eliminate 120 calories by doing so.
In any event, I'm digging this stuff and between the smell of the bacon and the cabbage-like brussel sprouts it gets the house smelling just like my late Grandma Helen's crib. Just need to get some coffee going in the percolator and it will be spot on.