Soiled White Trash Mexi-Bowl™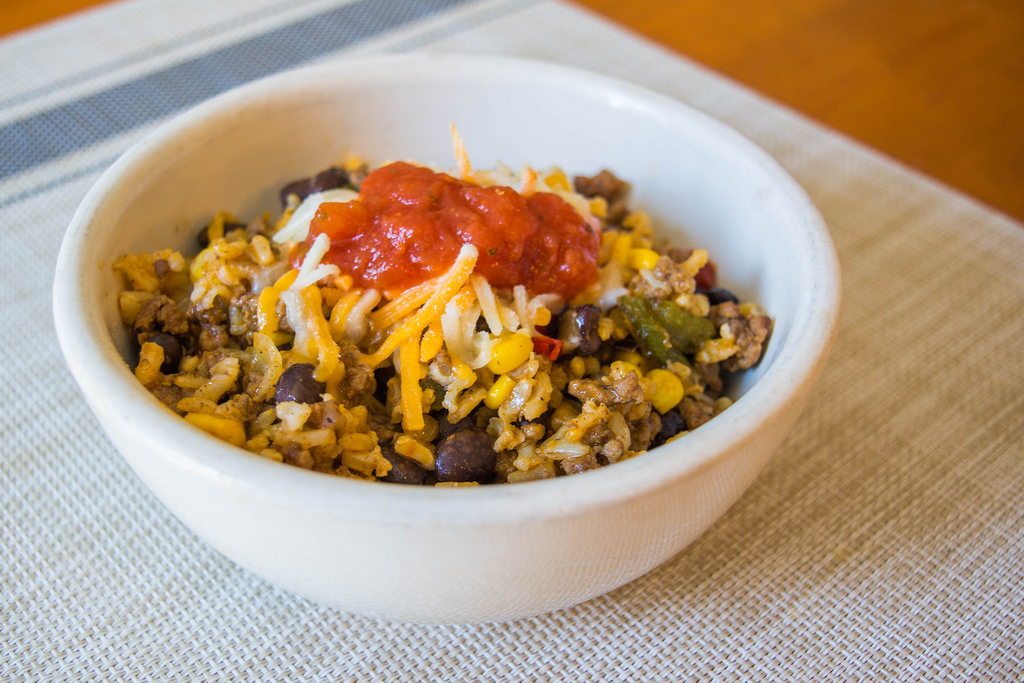 A bunch of food stuffed in a bowl is all the rage now: KFC has their Post-Sunday Dinner Bulimic Bowl™, Chipotle has their $7.99+ Hold the Tortilla Burrito Take My Money Bowl, and I have my Soiled White Trash Mexi-Bowl™. Also known as the You Can't Deport This (grabs crotch) Bowel Brush Bowl™. I admit, despite their pending (OK, made up) trade marks, the names are a work in progress, but bear with me 'cause this bowl full of spicy, fibrous, carb-tastic love is one of my fave things ever (it doesn't take much), and if you have even the most rudimentary of cooking skills it is beyond easy to make.
Ingredientes (I type that in Spanish because that's how exotic they are):
1 pound of 90% lean ground beef (veggie crumbles, or diced chicken breasts)
1 red pepper (diced)
1 green pepper (diced)
1 medium-sized onion (diced)
1 can of low sodium black beans
1 cup of cooked frozen or canned corn
1 packet of taco season mix
1 to 5 (eyeball that shit) tablespoons of olive oil or vegetable oil
Salsa (to taste)
1 bag of Success boil in bag rice
Hot Sauce (to taste)
Salt & Pepper (to taste)
1 cup +/- of Mexican or cheddar cheese
Loose, I'm Assuming You Know How to Cook a Little Bit, Directions:
Add oil, red and green peppers to a large pan on med-high heat.
On a separate burner start rice, and cook according to directions.
When the peppers start to become a bit tender add the ground beef, stirring occasionally.
Just before the ground beef is browned add onions and continues sautéing until all is cooked.
Add  black beans (rinse them first goddamn it!) and corn (cook corn first if frozen) and mix through.
Add taco seasoning, salt, pepper, and mix through. Add some water if necessary.
When rice is done, drain, and add to pan of Mexi-goodness. Stir through.
Serve and top with Salsa and/or hot sauce, and cheese.
Not sure how many portions this makes, I'd say four, but that's a guess 'cause I usually eat the whole carb crushing mess (including leftovers). I usually make this when Wifey is traveling or when I'm home alone because Wifey hates rice. Boo on Wifey, rice hater! I tend to pack some away stat (so I don't eat it) for lunch the following day. There really is nothing like coming home from a cold fall or winter ride and knowing you have some cockle warming "Mexican" food in the fridge.
I also recommend some tortilla chips on the side and maybe an IPA, or tall double (really a triple) gin and tonic. Unless it's weekday lunch, then just pound straight tequila and don't drive or breath on your boss! Joking.