For some people, riding bikes is about going fast, winning and losing races. For some it's about adventure. For others still, it's about going places and doing things that you never thought you would or could do.
I was looking through some boxes today and found some photo albums from the many road trips Wifey and I made to Colorado in the pre-B-Man days. The photos below from 2001 are just two of the hundreds I found, but I dug them and they brought back some memories of one of the few rides that Wifey and I have actually done together.
Wifey never fancied herself a cyclist (at all) but in between the miles I was putting in on the amazing singletrack in CB she was more than up for a big ride. I took her on a forest road loop that would eventually have us passing the Pittsburg [no "h" ] Mine, something, as Pittsburgher's we thought was sort of neat.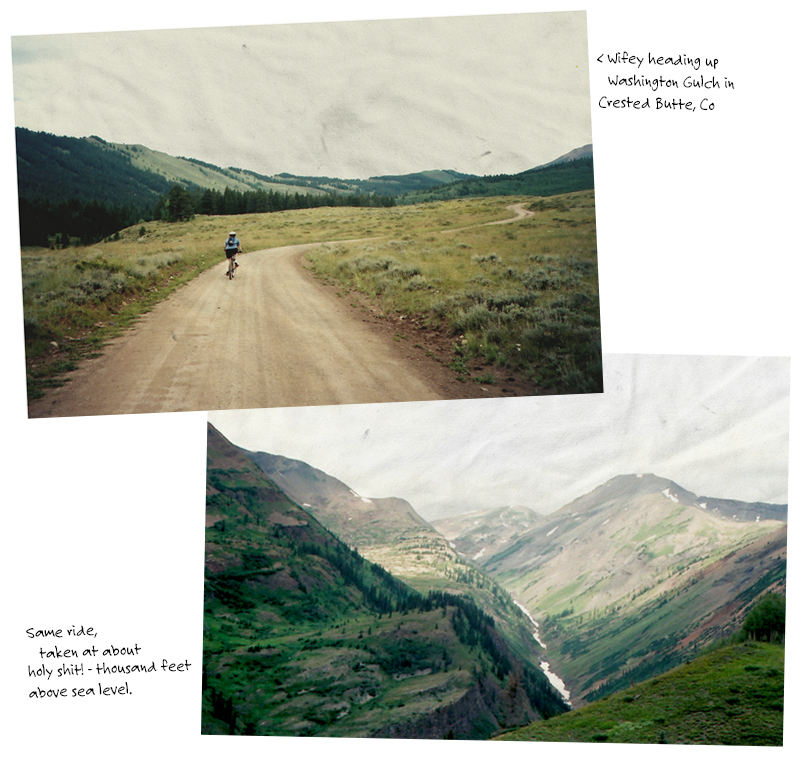 What started with a gradual climb up Washington Gulch Road, eventually turned steep and had us on top of the world taking in some incredible views. To see Wifey push herself up those long, granny gear climbs was amazing and I was super proud of her. Even better was when we eventually started descending… I looked back over my shoulder going close to 30 mph and saw her way, WAY back at the top, walking. She was too frightened to ride down! Not sure I would have been much better as a novice rider, on a sketchy gravel forest road with a LONG drop to the left. Once things evened out a bit, she was back on and riding. I'm pretty sure she was still a little shaky, but she was at least riding.
Our ride had taken us into the afternoon hours and as is customary in the high mountains in the afternoon, it started pissing down rain. The temperatures dropped from 70˚ to about 40˚ in just a few minutes. We stopped, put our rain gear on and continued the ride. By the time we made it within a few miles of Crested Butte, the rain had stopped and the sun was out. The mountains are wonderfully psycho.
It has been about 9 years since we went out west. I'm pretty certain we'll get back someday, but even if we don't, I'm cool with that. I've rode trails, seen views and shared memories with Wifey (and even a 5 mo. old B-Man!) the likes of which I never thought I would, or could. Mostly from the saddle of my bike.
Mountains rule.
Bikes rule.
MOUNTAIN BIKES RULE!
Memories from the saddle of a mountain bike rule!