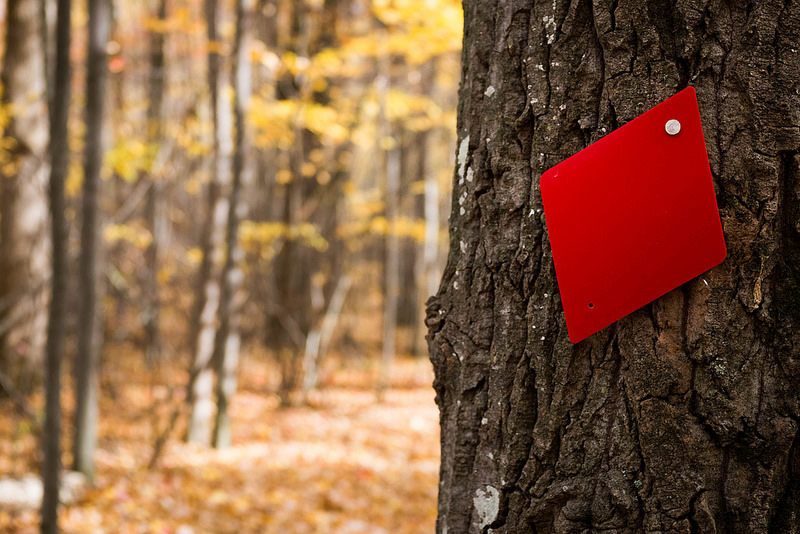 I had a few plans locked and loaded for my "Friday of Solitude" while Wifey and B are in Pennsylvania:
Ride some North Country Trail.
Do the 35+ mile course of the 2012(?) Barry-Roubaix that started from Gun Lake.
Ride some sandy snow mobile trails up north on the Fatterson.
Not one of those things happened. I ended up on the trails surrounding MMCC again for 15 to 16 miles of autumn leaf surfing. Obviously this was NOT one of my plans for the day, but when I rolled out of bed, it seems I rolled out on the wrong side and stepped in a huge, steaming pile of funk. And not the good, badass kind. So, it was sort of a miracle that I got out at all.
I have no idea what was wrong with me, but THAT is part of my charm… er… problem? But after feeding my buddy's dog and sending out more eBay gear–this time my Nikon D3200–I made my way north of Mt. Pleazy to get a lap in.
Up near Harrison, fall has all but come and gone. Many of the trees are void of any leaves at all and at times the trail is hidden and hard to follow. Lucky for me I've ridden about 10,000 miles on this trail in the past five years. I'm sure much of that windfall was due to the heavy winds we had earlier in the week. Goddamn we get some gusty ass shit here.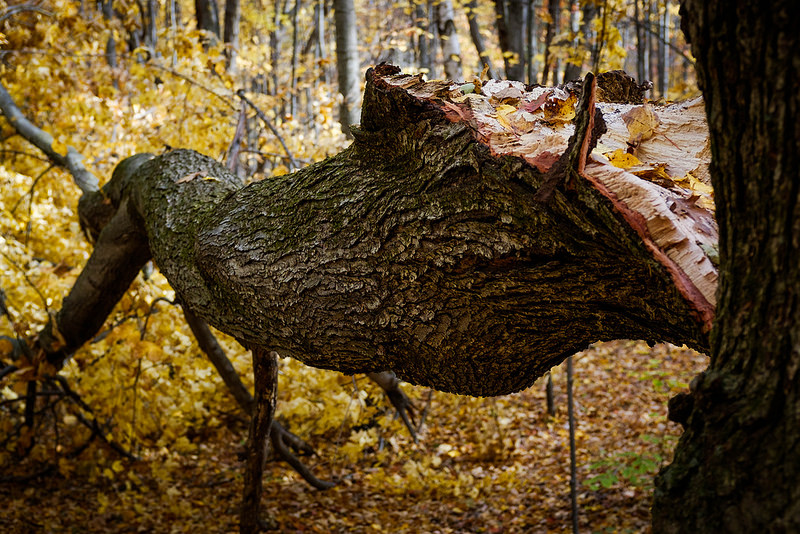 Along with all the leaves and a hunka-hunka big ass tree, there were a ton of small branches and sticks down. I stopped twice to pick sticks out of my wheel before I lost yet another derailleur–curse you vile god of autumn. That's part of mountain biking of course, but I plan to put the Superfly up for sale in the coming weeks and really don't want that hastle. Wait, what, you say? No, no, no, despite the urging of the masses and my sagging belly, I am not giving up mountain biking, it's just time to move on. I've been faithfully married to Wifey for nearly nineteen years, that's about all the commitment that I can take. I gots to rub my taint on the saddle of another, but first the Superfly must go. It's an awesome bike and served me well in our seemingly brief time together, but it's time for me to say goodbye to her and rub my taint on another (wifey's not big on my taint rubbing).
Anyway, the ride was good; not what I planned or wanted but I made due with my funk and salvaged the day. For those out there who deal with random funk (not the good kind), you know that's sort of a big deal.
The forecast if for various amounts of wet stuff (not the good kind) tomorrow. Not sure if I'll get out or not, but I sure hope to do something other than watch a shit ton of football in the morning.
Later.