Note: The blog post below was originally posted on xxcmag.com on November 4th 2011. As I've been doing with some other posts that I wrote and enjoyed on XXC, I am reposting it here, because when the now defunct magazine's site expires, it's gone. I am also reposting because I just saw a Tweet that The Guardian wrote a way better, more professional article about her on May 12, 2014 and I wanted to prove (at least to myself) that I was at least thinking of how badass Alfonsina Morini was before them (even if it was a short post, via a now defunct endurance mountain bike site with a microorganism sized following). Also note that I wrote the post using Alfonsia's maiden name of Morini rather than that of her husband Luigi Strada.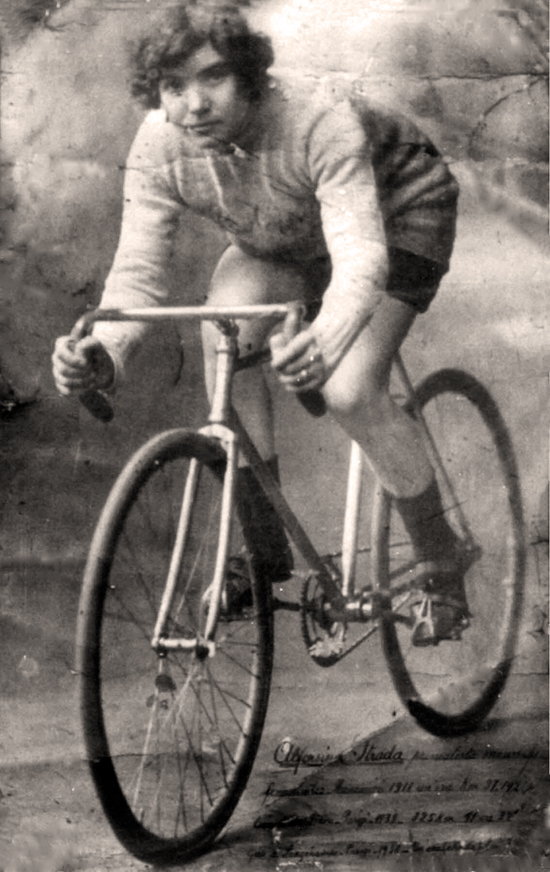 This post is sort of off topic from endurance mountain bike racing, in fact it's about road racing, more specifically about the 1924 Giro d'Italia. I'm making an exception here since I can be almost certain that a HUGE chunk of the race was done on some pretty horrible roads, including a ton of muddy, wet, icy dirt and gravel mountain roads. I think that qualifies to be on XXC.
OK, to be even MORE specific, this post is actually about a rider it the 1924 Giro more than the Giro itself. It's about giving props to an old school, black sock wearing bad ass chick, named Alfonsina Morini Strada (1891 – 1959).
What made Alfonsina Morini so bad ass?
She was hell-bent on racing her bicycle no matter what society, friends and family thought or said.
She once won a live pig at a race. OK, that's not so bad ass, but still worth a comment in my opinion. I would have loved to have seen that podium presentation!
In 1911 she broke the women's speed record on a 44 pound singlespeed.
In 1924 she became the only woman in ever to compete in the Giro d'Italia.
During the Giro's 7th stage, the weather conditions were horrible. She crashed and broke her handlebars. A housewife along the route gave her a broom handle, she cracked it in half and fashioned a handle bar out of it. Although out of the time limit, she went on to finish the stage. Bad ass.
After she retired from racing she commuted to work on her old race bike.
When she became too old to ride her bike she sold some of her old medals and trophies and bought a red motorcycle which she rode until the day she died at the age of 68.
Yeah Alfonsina, you were pretty bad ass. This grappa's for you. Cheers.
Notes & Sources: To read more about Alfonsina Morini check out this web page about her life [HERE]. Good stuff.