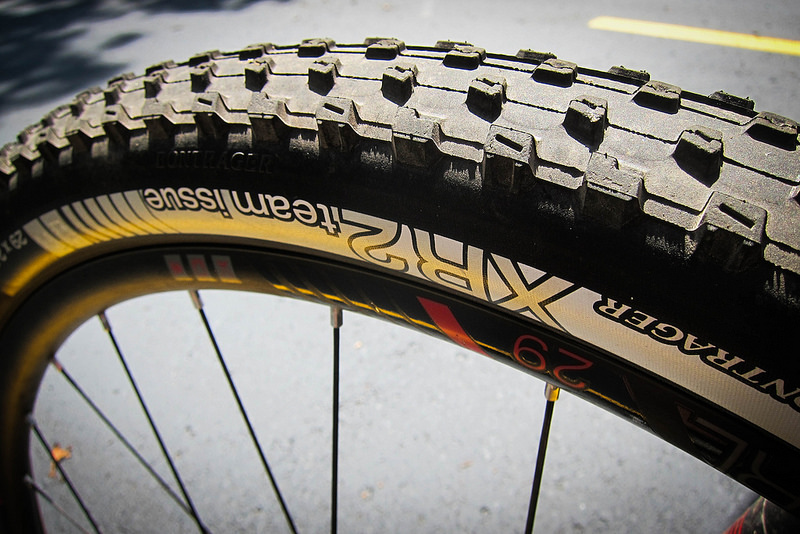 For a multitude of reasons, I've put off getting new tires on the Superfly for months: lazy, cheap, not riding singletrack as much, not racing, etc., etc. I could think of a million excuses, but mostly it was due to laziness (and being a moron). I believe the rubber that was on the SF was roughly two years old and it showed EVERY SINGLE BIT of its age.
Every turn with the Bontrager XR1 Team Issue TLR 2.0/2.2 tires was a thrill, and a guessing game of Will I Go Down or Won't I™? Finally, I parted with the cash and  moved to the Bontrager XR2 Team Issue TLR 2.35s. There's not a huge difference in the tires, but the added girth + the extra knobs ACTUALLY made me feel like I could take a corner and not eat dirt. That is pretty swell.
In my mind I would have liked to have done an extended mountain bike ride today, but in reality, it was one lap minus one small loop at Mid so as to get some other stuff done and not die of heat stroke (do you even know what 85˚ feels like to someone from Michigan????). Even though the ride wasn't that stellar, the XR2 tires proved a wise investment and had me realizing that the old tires were WAY past their prime and that I am not THAT bad of a bike handler–however I am still pretty fucking bad!!!
I also made a change to the cockpit today: I have now gone BACK to Ergon grips. I used Ergon grips for years when I was racing, but then started to develop some numbness when using them, so I switched to ESI grips. I loved the ESI grips for a good 18  months or so. Then the numbness came back, so I made the decision to go back to Ergons yesterday. I'd like to say that making the switch back was the best thing I ever did, but in reality I still got numbness in my right hand today (JUST my right hand). I plan to monkey with the adjustments to see, but it looks like I went from bad to adequate with my move back to Ergon grips. We'll see, I hope I'm wrong.
While only half of my new investments proved wise today, it was awesome to get out on some real dirt today. There will be no riding tomorrow as I'm working at the shop until 3, then Wifey and I are supposed to meet up with some friends for dinner, but I'm sure hoping for some miles on Sunday.
Later.