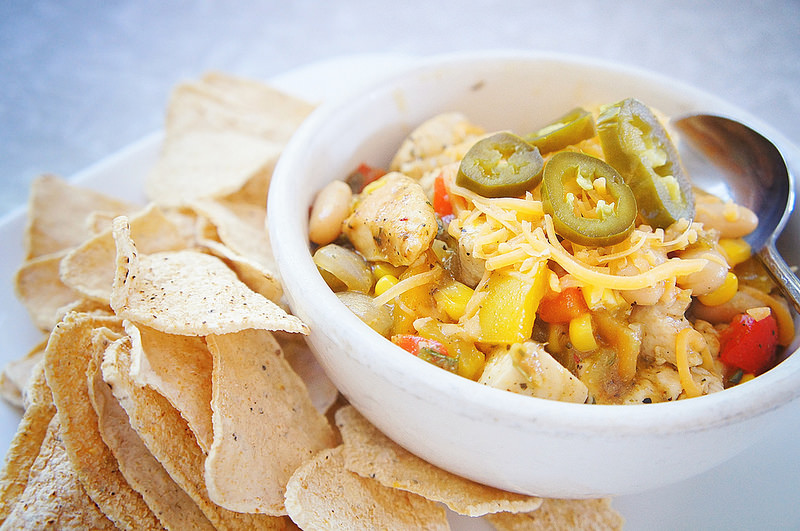 It's been a while since I've been mentally challenged enough to bore you with talk about food and my Cat 5 Cooking, which is my less than witty way of saying that I'm a cyclist who likes to cook; mostly foods that are white trash, bastardizations of proper foods. Case in point, Wednesday's vat of Not So White Soiled Chamois Chili.
Fall is chili weather, and I bought all the accoutrement to make both traditional chili and the unfortunately racist sounding White Chili a week or so ago when the temps started to dip. I never did get around to it and now our temperatures have gone back up, it's no longer chilly, chili weather, but it is fall and I'm hungry for chili. Not to mention I bought all the shit, so I made some.
In the future I want to make up a batch of "real" white chili, but for now I was content to just use some McCormick White Chicken Chili seasoning for the core seasoning, but take things beyond chicken breasts & beans and add corn, diced red, yellow and orange bell peppers, onion, diced green chilies,  jalapeño peppers and a dash or seven of El Yucateco Green Habanero Hot Sauce. I also chose to use chicken stock instead of water, 'cause I'm a fucking rebel!
It turned out swell and was worth turning on the air conditioner while I ate it to prevent any in-dinner perspiration. I topped mine with some shredded plastic fat free cheddar cheese and jalapeño peppers and served some pretty tasteless, cardboard Meijer Baked Tortilla Chips. If I were you I would use real cheese and real tortilla chips. Then again, if I were you I wouldn't be reading this blog.
Truth in blogging: While I did take the photo used above, it does not represent the portion in which I ate. It represents the portion which I SHOULD have ate. The chili in the bowl above was added to another bowl of chili, roughly 12 quarts in size. I then sat on the couch, watched  TV and shoveled it into my face with a giant spoon while beads of sweat rolled down my face. Good times… good times…