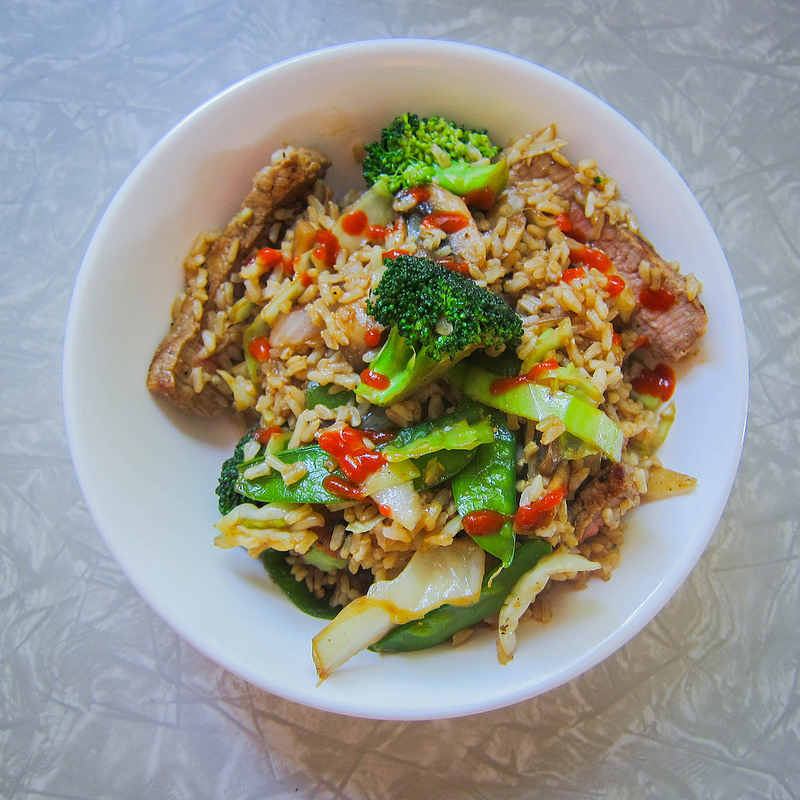 From the time I woke up this morning I was craving Chinese food. I'm not sure why other than the fact that I ordered some Hunan Chicken from Super China Panda Great Wall Garden House at work on Saturday for lunch and have been craving more ever since.
The thing is, just like most foods, I'd rather make it myself than order it out. But, just like most of my dabbles in Mexican and Italian cooking, my attempts at ethnic cooking are usually anything but traditional recipes and are of course Cat 5 in nature. Meaning that they're pretty white trash. Having said that, things usually turn out pretty damn tasty, and in the case of my attempts at Chinese and Asian cuisine, often come out a bit healthier than had I followed a standard recipe or just ordered it from Super China Panda Great Wall Garden House.
I love a good stir fry because I usually make a large portion with lots of veggies and tend to stuff my fat face pretty much guilt free. And that's just what I did today with my Soiled Beef & Vegetable Stir Fry.
First I took a piece of round steak and marinated it in some light, low sodium soy sauce, garlic, and black pepper for about two hours. Then I diced and sliced up some mushrooms, cabbage, broccoli, onions and snow peas.
When the steak was done bathing in the marinade, I padded it dry and sat it to the side while I started heating some Smart Balance oil in a skillet and got the brown rice going.
Rather than stir fry the beef, I opted to throw it on the grill while my veggies and rice cooked. I love the taste of beef off the grill rather than fried in a skillet.
When the rice and veggies were done I combined them all in the pan and added the fresh off the grill beef along with some soy sauce and some sriracha sauce. Mixed through and then set about shoveling serving after serving into my face.
Soiled Beef & Veggie Stir Fry might not be the most traditional of Chinese meals, and it will probably never be on the dinner menu at Super China Panda Great Wall Garden House, but it was full of colon blowing vegetables, protein and fiber. AND it tasted damn good, despite being ill-named.
Looking forward to seeing how else I can totally bastardize versions of Asian cuisine in the future.