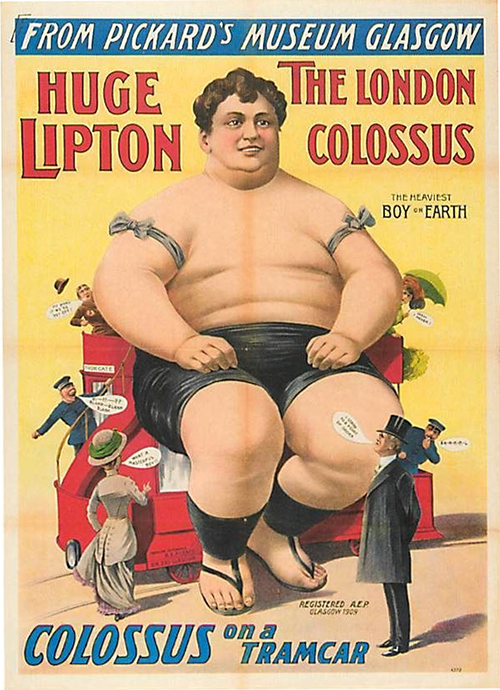 This week has been a pretty good week of what I call "doing stuff." Some people call it "training" but I can't really bring myself to use that term anymore, since I have no idea what I am training for other than to not get any fatter and to ride and race my bike without looking like the complete douche bag that I surely am.
Part of the stuff I do is going to the gym for some strength training and off the bike cardio. It's nothing over the top and it's not all that interesting, but this week did have it's share of ridiculousness…
Monday: 1st gym workout of the week. Start off with 45 minutes of cardio on the Stair Master. I usually take it easy for the first 5 minutes and gradually increase the difficulty until the 15 minute mark. After that, if I am feeling good (and I was Monday) I start doing 1 minute intervals, increasing and decreasing the difficulty by 50% every other minute for 15 or 20 minutes. This was going great and I was getting my normal sweat on. Then it happened…
I grabbed my towel to soak up the buckets of nasty ass sweat starting to drip from my arms, neck and face, when I wiped my face a big swath of blood streaked across the towel. The towel that is provided to guests by the gym… the bleached WHITE towel… the towel that is very much NOT mine which now features a bright red streak of disgusting sweaty diluted blood that apparently exited my dried out nostrils. The towel that I have to deposit in the laundry bin that's sitting right next to the desk attendant. Muckerbuckingfitballs!!!
I used the same fuckin' soap you did and when I got finished, the towel didn't
look like no goddamn Maxi-Pad! – Jules Winnfield, Pulp Fiction
For the remainder of my time on the machine I kept the towel folded in such a way that the stain couldn't be seen. Once I cleaned and wiped down the machine, I moved on to the chest press machine, continuing to keep the towel out of sight. After my sets on the machine I noticed that the attendant was away from his desk. So I scurried over like a fat sweaty (and apparently bloody) rat and put the towel in the bin. I then grabbed a new blood free towel from the desk and continued the rest of my routine, making sure not to wipe my nose with the towel. I couldn't help but think of the interaction between Jules and Vincent about the blood soaked towel in Pulp Fiction.
Tuesday: Trainer day at home. Nothing too embarrassing about this, except for when I tried on some old jerseys before the workout. Man, there is nothing like an old race cut cycling jersey to really show off the man blubber that I have worked so hard to put on over the past few years. I am a fucking blubbery train wreck of beer fueled flesh. It's a fact.
Wednesday: Back to the gym and more Stair Master-ing, thankfully blood free but not without incident. I warmed up nicely and was feeling good. As I moved on to my intervals I saw the door open out of the corner of my eye. In walks one of the fitness instructors leading a large group of pre-school kids and few parents around the fitness center on some sort of field trip. I can't even imagine the mental wounds and scarring impressions I left on those poor children: my hulking figure climbing steps to nowhere like someone is chasing me with a machete, mouth agape, sweat pouring off of my beet red face, clothes soaked with perspiration and clinging to my muffin topped torso like I just walked off stage at a wet t-shirt contest for fat cyclists. I'm all about teaching kids about nutrition and fitness at a young age, but I fear I may have been the poster boy for when shit goes wrong.
Thursday: First ride on the Musk Ox. I did a 1:40 minute ride on snow packed dirt roads. Despite being on a clown bike I really felt no embarrassment or awkwardness. I really thought I would feel a bit strange, like walking around with no shirt on (something I haven't done since I was 9 years old) but a bike is a bike and it felt completely normal. Of course the coating of frozen snot and sweat on my balaclava couldn't have been that impressive to passing motorists, I doubt that anyone looked at me and said "Wow, that looks like fun!" Their loss.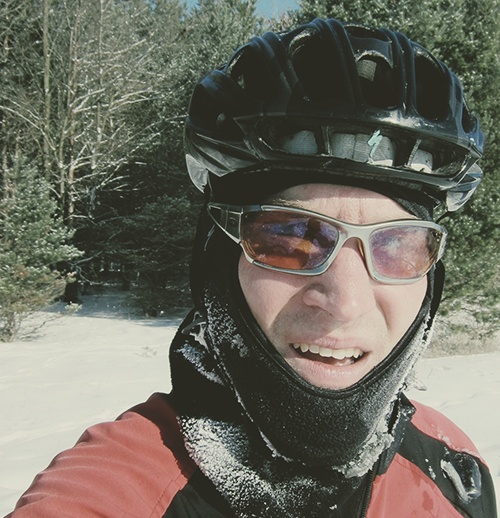 For the record, I wasn't smiling in this selfie, I think my face was froze like that. Or I finally ejected a frozen constipated fart, I can't remember.
Friday: My morning was all over the place. My son (B-Man) had a 1/2 day of school, which I didn't know about until 7:30 a..m. The thing with his school's half days is that they're not really half days at all– he's done at freaking 10:30 a.m.. This meant I needed to re-juggle my gym time, work time, job searching and house husband duties a bit. No big deal, I'll just go to the gym earlier.
The thing is, I am a creature of habit. I like routine and my routine was interrupted. My brain is NOT that powerful. The least little nudge to it and my world is upside down. I figured that rather than using the locker room to change I would just wear some sweats over my shorts and just use one of the small locker outside the fitness area. That's normal enough, right? Wrong.
I get there, open the locker, get my sweats off and put my dry gym shoes on. I grab my iPod and go to put it in my pocket, but there was no pocket! There was no pocket because I managed to somehow get dressed in the morning and put my shorts on inside out. Luckily there were only a couple of people in the foyer and the shorts were black so it went unnoticed until I quickly slipped into the men's room to get sorted out. I guess it could have been worse, I could have taken my sweats down and realized that I was standing there in my undies… Or worse, nothing!
Sadly the workout sucked. I was feeling way tired, my breakfast wasn't fully digested and I needed more coffee. So 30 minutes on the Stair Master and 2 quick sets of weights and I said "Fuck it" and went home. At least there was no blood.
Really hoping that the gale force winds that are rocking Mt. Peezy today are gone after today and I can get out for more riding this weekend, hopefully void of embarrassment or incident.
Side note for any Michigander-burgher-ite locals: A couple of friends of mine are getting a table at this weekend's MMBA Swap Meet and they are taking a bunch of my stuff. So if you are in the area and need any used bike crap, stop by, you will find the following from me:
Rock Shox Reba 29er fork with ghetto mod lockout (bought used, hardly used by me and in great con-dish.
Bontrager carbon wrapped aluminum rigid 29er fork (bought gently used and used twice by me)
Set of studded CX tires (never used)
Set of Kenda 29er slicks (used twice)
Bontrager Saddle and Post (never used)
Ergon Pack (used once, 1 small pocket zipper is busted)
Cane Creek Thudbuster Seat Post
Salsa Dos Niner frame