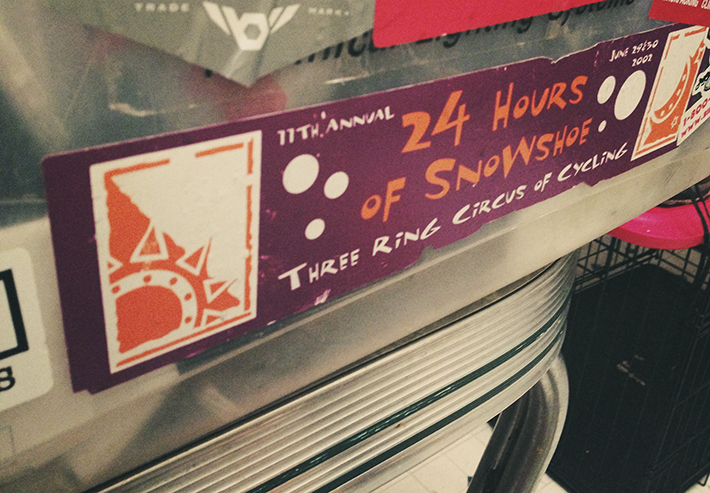 Yesterday, as I came home from my ride and sat my ancient, well stickered box full of gear on the kitchen table, I happened to glance down at the large 2002 24 Hours of Snowshoe bumper sticker that adorns one side (right between a bikeman.com and Merge Records sticker). I have obviously seen the sticker a million times in the past eleven years, but for some reason yesterday it hit home and reminded me of what all that ONE race spawned.
I had been riding mountain bikes for years, but prior to 2002 I had only done a couple of XC races and I had never done an endurance race. That, along with my cycling life, changed when I signed up with a 5 Person Open team for Snowshoe.
A 5 Person team at a 24 hour event is not all that exciting or difficult, and I would only do one now is if there was LOTS of beer and a stripper or two involved, but back in '02 I became obsessed with it. I trained like mad for that race and was so nervous in the weeks leading up to the race that I coaxed the Shingles Virus out of me. All of that just to do three laps in 24 hours. Eeesh.
I suppose it's the obsession and all that came after doing that ONE race that really matters:
A few 4 person 24 hour teams
10+ 100 mile races
Numerous 6, 8, 12 and 24 Hour Solo events
Several 50 mile races
Years and years of blogging blathering about racing bikes
The launch of XXC Magazine in 2009 (thought it would be a cool mag)
The demise of XXC Magazine in 2013 (turns out I was wrong)
Thousands of hours on my bike
Thousands of dollars spent on bikes, race fees and parts
Thousands and thousands of miles in the car driving to races
Meeting a bunch of new people and friends from all over the world
Riding lots of cool trails and seeing new places
Would I change anything? Beyond doing some different races or training differently– Nope.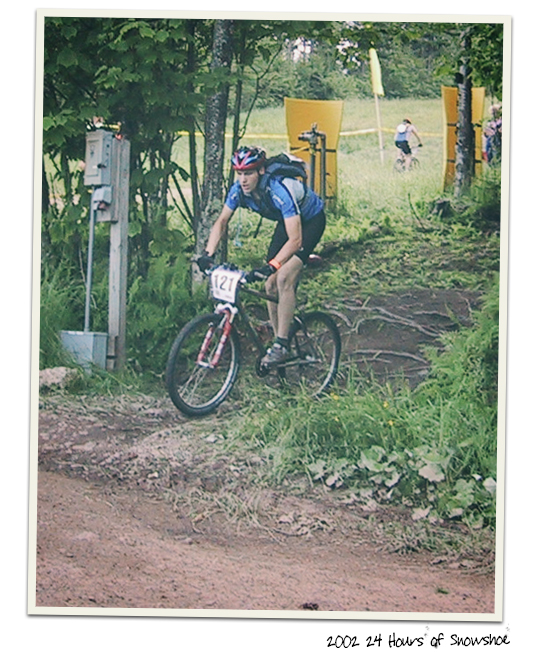 I never excelled at racing and never will (especially with the thirty pounds I have added to my frame since 2002!), I don't race as much, or ride as long anymore and the idea of doing a 24 hour solo race now seems like the dumbest thing you could ever do on a bike. I still ride, I still race, and in my own way I still have fun… even when it hurts. Still, I can't help but wonder what direction my life. for better or worse, would have taken had I not signed up for Snowshoe back in 2002?