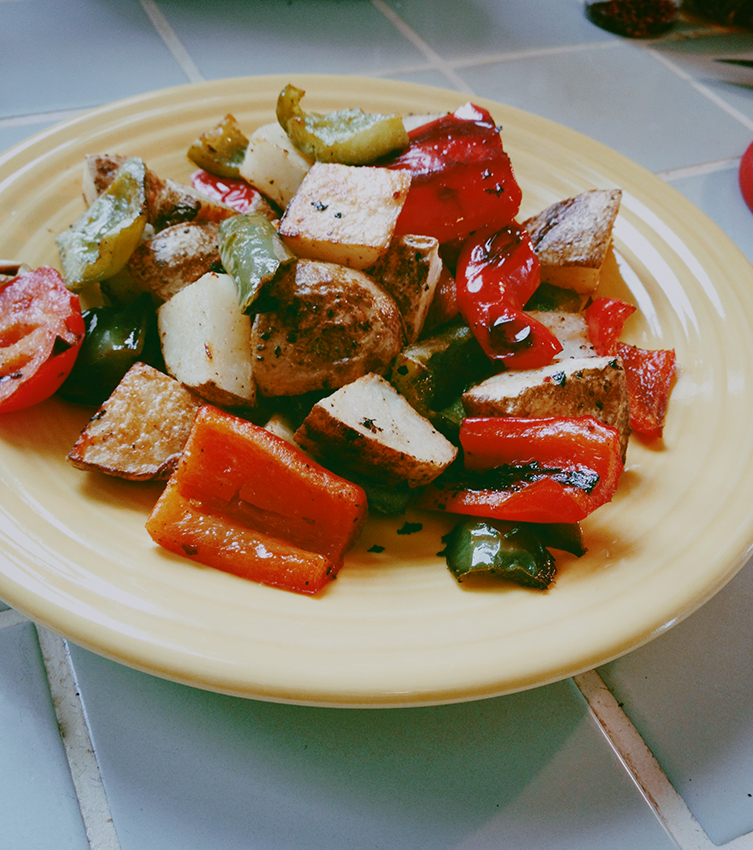 A while back, I blathered on about stopping all the Paleo diet inspired, Sugar Nazi hate on the potato, and in the process shared my Soiled Hash Browns (they taste better than they sound, trust me). They were good, but require a lot of skillet watching. So for lunch today I made up a "roasted" version that was way easier. Check out the potato loving easiness of my Soiled Roasted Potatoes & Vegetables…
Preheat the oven to 425˚
Hunk up one red pepper, one large green pepper, half of a small onion and two small (or one large) russet potato.
Throw it all in a Tupperware container, add one tablespoon of olive oil and spices (I used a pinch of black pepper, garlic powder, kosher salt, creole seasoning and red pepper flakes). Toss it all around (I put a lid on the container and shook thoroughly).
Spread it all out on a cookie sheet (sprayed with Pam) and bake for 25 to 30 minutes.
Damn, it twas good. Roasted red peppers are so tasty. And the potatoes… well they're freaking potatoes!!
Rough nutritional estimates via myfitnesspal.com (will vary by size of potatoes and peppers):
Calories 392
Total Fat 14g
Carbohydrates 61g
Dietary Fiber 6g
Protein 7g
For more information on pasta's equally hated dirty vegetable cousin the potato visit mipotato.com.
Look, a pipe smoking, hat wearing potato riding a bike! See, this is to a bike blog, so suck it haters!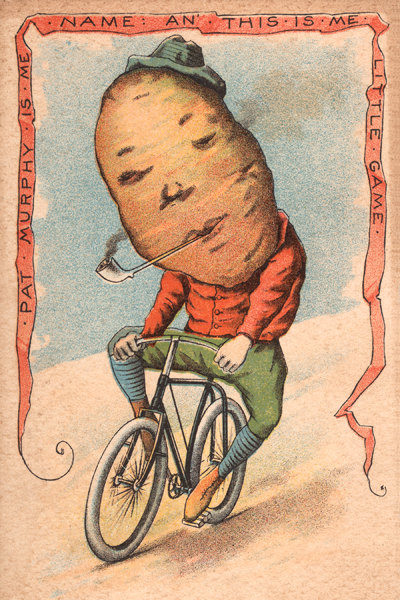 *Note: not that my food pics are ever that good, but please note that the pic above was taken with my iPhone and monkeyed with in Photoshop.