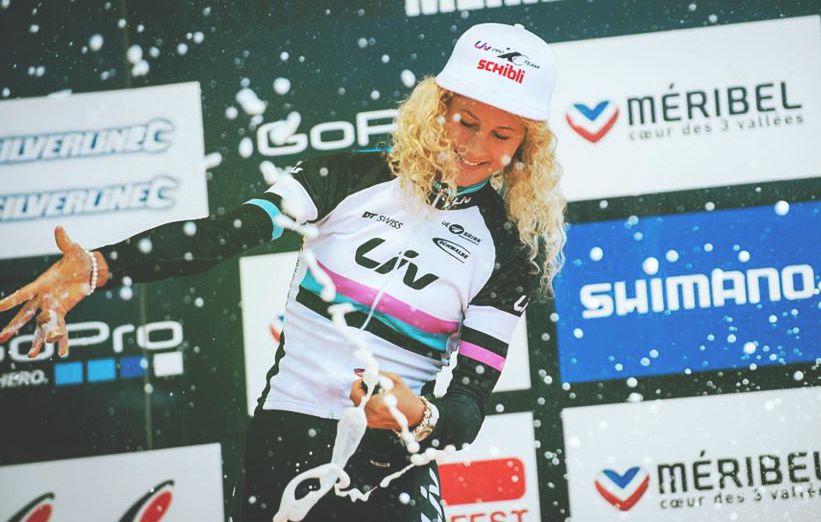 How could I not post a photo giving props to our my [current] favorite big haired, flat billed hat wearing, super fast XCO racing, lady-type Jolanda Neff for winning her third UCI XCO race of the year on Sunday in Méribel, France, AND celebrating her overall Women's UCI Mountain Bike World Cup series title???
Jolanda has had quite a year (no thanks to the support she gets from some creepy, old, 'Murican bike geek with a cycling blog) and if you don't believe me, check out her 2014 results on mtbcrosscountry.com. The worst finish she had all year (in any) race was a 9th place in Cairns, Australia when her stomach imploded. Sick!
Congratulations are also in order for original Soiled Chamois XCO "It Girl" Maja Włoszczowska for finishing 5th overall in the 2014 XCO series, well done.
With the XCO series now over, all that is left is the 2014 XCO World Championship in Hafjell, Norway on September 2nd. I don't want to jinx the woman, BUT if Neff would happen win the title, that would be the ultimate way for her to end the season and (more importantly?) allow me to post a kick ass, tenth and final installment of Neffness.
Side note: Did you know that if your Google "Neffness," this crap blog is the first site that comes up? Cheers to fast racers, lady-type racers and the goofball bloggers who follow them with a useless knack for making up words… and having nothing else to blog about.
Jolanda champagne money shot photo by Marius Maasewerd/EGO-Promotion