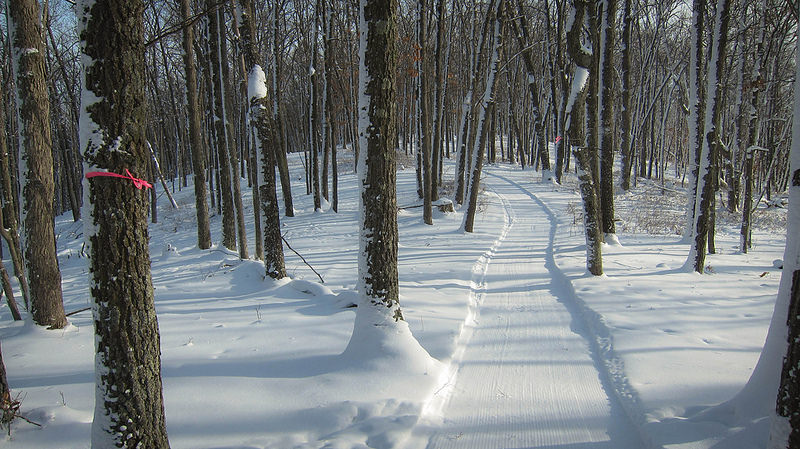 Look at that photo! A ribbon of snow and trail at Hanson Hills, groomed JUST for clown bikes. It's a thing of beauty. Except it wasn't… at least not today. Drat.
My gut told me to wait until the weekend to make the nearly hour and a half drive north to Grayling to ride Hanson's new, 5.5 mile, dedicated fat bike loop. My gut further told me to stay local and ride the snow covered dirt roads outside of town today and let the trail get a few more grooms in, and a few more riders on it before I drained a half a tank of gas. I did not listen to my gut, nor my gut's brothers that hang at my sides. I am sorry for that.
I couldn't fathom another night of blogging about running, riding the trainer or fucking food. I guess I could have not posted anything and saved some money… but I didn't think about that… and that's not the point! Get off my fucking back! You're not the boss of me!!
Anyway, in the interest of this blog and you, my faithful (two-ish? I hope) readers, I drove miles and miles of crap, ice and snow covered roads–that currently pass for paved Michigan "highways"– to Hanson Hills. If I wanted to nitpick, I could say that this constipated ride effort was your fault. Hmmm… yeah, it's YOUR fault, I'm cool with that. No one reads this fucking turd blog anyway, I am perfectly content with maligning any readers I might have.
In any event, I made the drive north whilst listening to the most recent episode of favorite football podcast in the world Men In Blazers, the whole time thinking I was going to hit an icy rut, careen off the road, crash, bleed out and die in an icy Michigan ditch. Thankfully(?) that did not happen and I made it to Hanson safely. I got myself a trail pass, kitted up and headed out into the sunny 14˚ morning
As soon as I hit the trail I was GEEKED, it looked freaking primo! Sadly I found myself going slower and slower… and slower before coming to a stand still. I was at mile 0.25. Damn!
I hoped, longed, prayed and yearned that things would get better, but it was not to be. Me being a deadbeat, jobless early bird and beating the groomer to the trail combined with blowing snows all night made for a LOT of walking.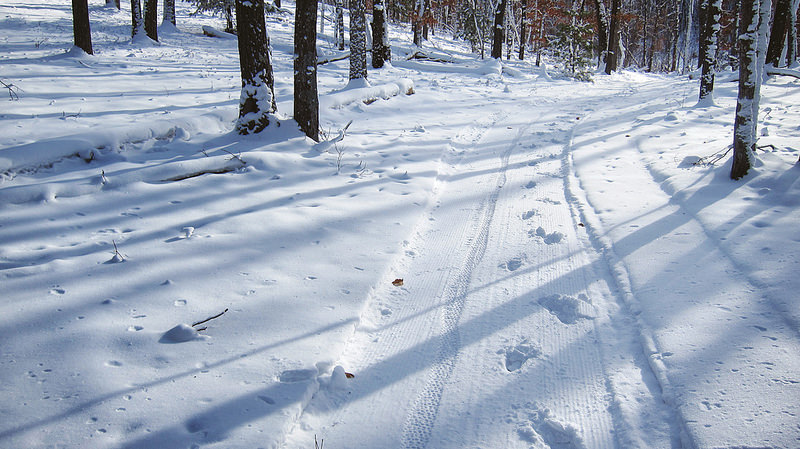 Things were just too soft. I started with about 7 PSI in my tires and stopped to let even more air out half way through in the hopes of more float. That helped a bit, but it was just not to be today. My planned three or four laps was not going to happen, there was no way I could do that at this pace and still get home in time to finish my kitchen ceiling repairs, get a few groceries and be there for B-Man after school. I mean someone has to be there to yell at him to do his homework, not be able to help him with said homework, make him dinner and the get schooled by him while play FIFA '15, right?
I think I was the only non-employee on the grounds of Hanson today and when I returned to the lot, the woman working the office came out to see how my ride went. I told her it was pretty soft, I did a lot of walking and that the trail was in need a some additional grooming and/or more riders, BUT that I had fun. She surprisingly asked if wanted my trail pass fee back since things were so crap and I did so much walking. I told her thanks, but no thanks, to put the money in Hanson's kitty for the trails. Shit, it was only $5, I mean I've spent five bucks on way, WAY, WAY worse things… a bottle of crap Rolling Rock beer being passed off as "craft" beer out in Colorado comes to mind right now, but I digress.
I will return to Hanson in the very near future, after the trails get a few more groomings in and a few more riders on them. Until then I hope to hit the snow packed dirt roads at some point over the next few days. Shunning racing one of the two fat bike races this weekend in Michigan for mornings watching footy, riding snow-covered dirt roads and enjoying evening beers under the hole-less ceiling of my kitchen, free of an early morning wake-ups to drive shit roads, race in the cold and come in nearly last. Not racing, has its perks. Maybe.
Later.