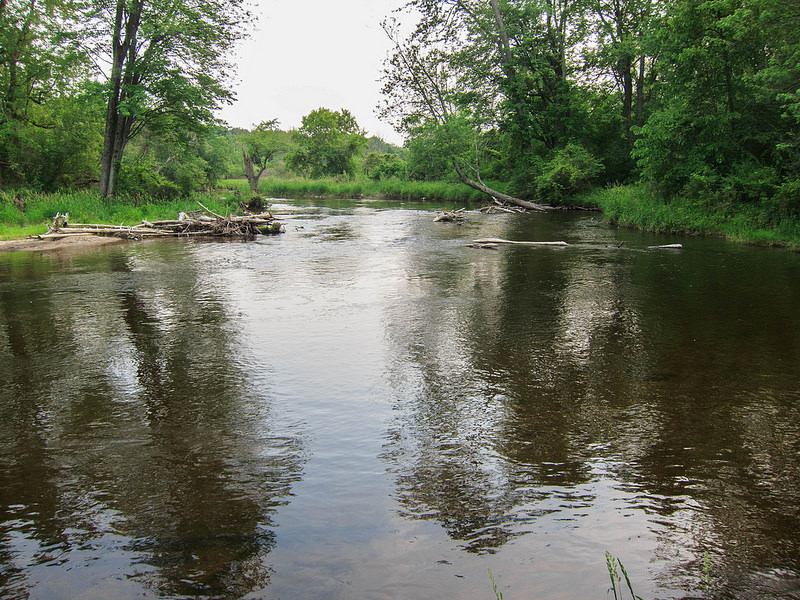 Tuesday brought a hazy and warm summer evening. I had an un-blogworthy 16 mile singletrack mountain bike ride in my legs and a belly full of baked chicken thighs and spicy tomato pasta, but the evening was too nice to waste sitting around the house. So once Wifey was home from work I made the decision to head out and do some fishing for a couple of hours.
I headed out to an area of the Chip that I've been having fun at and had a little bit of success in the smallmouth department. However not more than five minutes after my arrival, a group of bikini clad girls, and what appeared to be their redneck stud, arrived and started frolicking in the water about twenty yards from me. As you may or may not know, my love of frolicking, bikini clad girls is strong, but not while I'm trying to do some fishing. So, I took a long, bank depositing gaze at the bikini cladness to my right, wondered how one redneck dude found himself surrounded by a gaggle of bikini wearing lady types, packed up my gear and drove a few miles down the road to Meridian Park to walk the trail along the river and seek out some spots to throw a line in the water; hopefully without any bikini frolicking.
I found few spots here and there along the river to make a few casts but with little success, then I finally settled on one area below the river bank that had enough shoreline for me to stand and set my stuff down and wade out a bit if I wanted.
As I scrambled down the bank I realized that I would not be alone in this spot. I would be sharing it with one of the many turtles that have been out and about Michigan in recent days.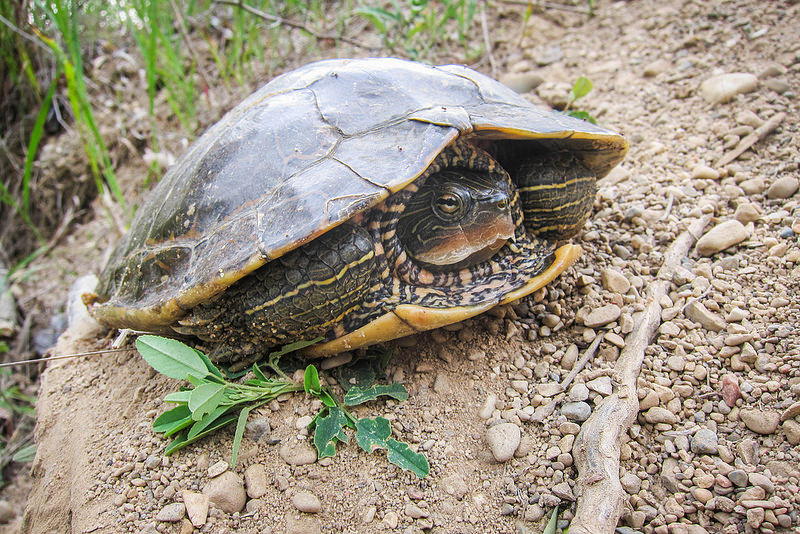 I said hello (there was no response) and made sure it knew that I was there to just to fish, not goof around with any turtles. I even promised that I would not make any jokes about turtle heads; that promise lasted less than ten minutes.
I casted here, I casted there, I caught a smallmouth that was so small I didn't even know I had a fish on until I had practically reeled the lure the whole way into shore… I really don't know how it even got the hook in its mouth.
As the sun got lower I looked down river to see a large doe make her way to the edge of the water to get a drink. I watched her standing at the river's edge while I continued casting with my turtle buddy beside me the whole time. Having spent time in the woods on my bike in the morning and now literally standing in the water of a Michigan river listening to the birds chirping and the breeze blowing through the tall trees I couldn't help but think that this was a pretty damn good way to spend a summer day. While the ride wasn't that great and I had little success in the fishing department, I'll take a day in the woods on my bike and on the river fishing over a day at the beach any day. Well, except from about November 1st to late April!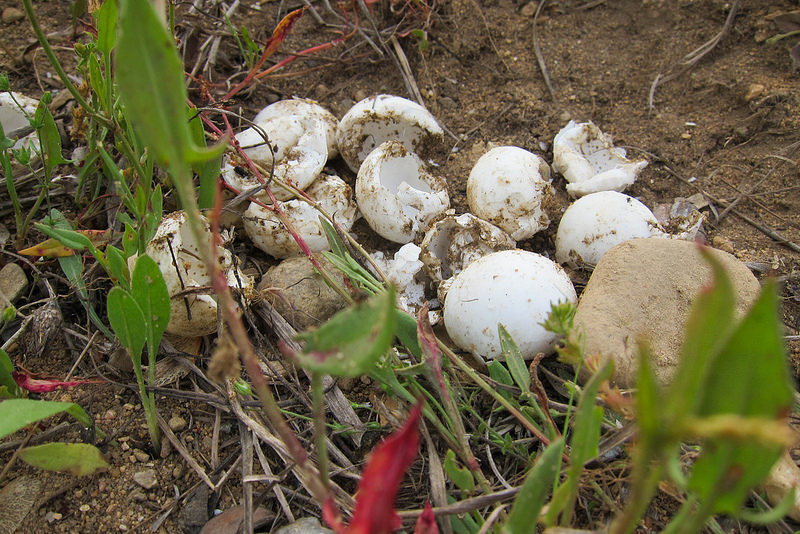 Since I was finding little success fishing, but much success in the way of mosquito bites, I decided it was time to start my walk back to the car. As I started up the sandy bank, I noticed three or four holes in the side of the river bank and just as many piles of eggs nearby. It turns out that my fishing spot had recently been the birth site of thirty to sixty little turtles and the sandy bank I scurried down to do my fishing was no doubt their launching pad into the Chippewa River and a life of turtleness.
As I headed back to my car I congratulated my turtle friend and wished it good luck, knowing that most likely that turtle had been the mother/father of the newly hatched little turtles. Then again, with nature it may have just eaten its young and was too stuff to bother moving when my fat ass showed up.
Wednesday brings B-Man's last day of school for the year. A year that has been a good one for him, as he (through none of my doing) made the honor roll for the the fourth quarter in a row and the third quarter with straight A's. Thank God he got his mom's brain! A ride may or may no happen later in the day, as I'll be tending to a plumber in the house to investigate some issues and with a B-Man free from the confines of school.
Back to the shop on Thursday where hopefully I can find time to flop my rotor on the Boone's rear wheel as well as woo central Michiganderburghers into the amazingness of riding a bike.
Later.