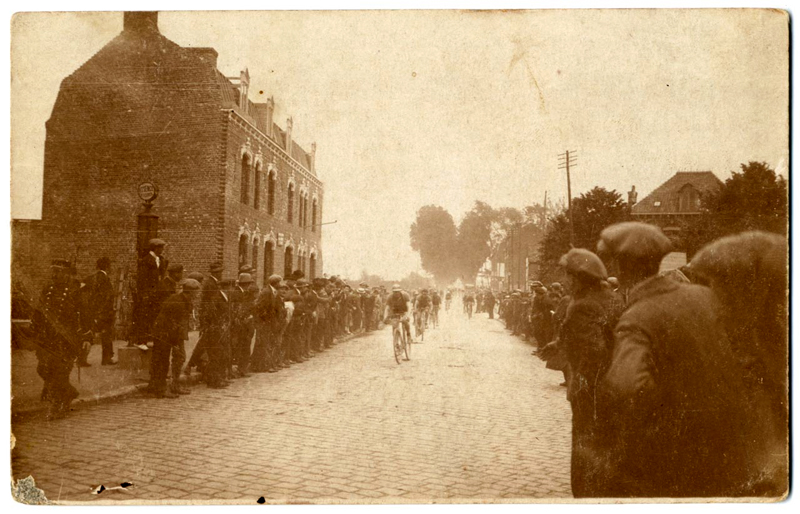 I may not have done anything on Monday (except make rice and beans and play basketball with B-Man), and I may have only ridden the trainer for an hour today, but I DID find this bad ass photo from the 1910 Paris-Roubaix to share, so I am pretty sure that the Cycling Gods forgive me for my lackluster two-wheeled training regime. Fuck it.
I would have rather sucked the blood from the neck of my neighbor's ever barking dogs with my bare face after hitting them with two large cinder blocks, than ride the trainer, but I still did.
B-Man was busy with some sort of Mine Craft meltdown, so I climbed aboard the Campeon/trainer and fired up a mix by The Cure. It's been a long time since I let "Fat Bob" move me in any way, but today seemed to be the day. A well thought out live Spotify mix was more than enough to guide me through 60 minutes of spinning, hating myself and wanting to take a rope to the attic whilst Robert Smith ate a ham shank and serenaded me to my demise. OK, that might be some over-the-fucking-top hyperbole. Sorry. The mix was mostly made up select tracks from the Live At Bestival 2011 CD with a heavy emphasis on the Pornography album.
The ribbon tightens round my throat
I open my mouth
And my head bursts open
A sound like a tiger thrashing in the water
Thrashing in the water
Over and over
We die one after the other
Over and over
We die one after the other
One after the other
One after the other
One after the other
One after the other
Because of the brilliance that is Pornography I ended up spending some time tracking down the audio rip to the Trilogy DVD. It's fucking aces. Pornography is one damn fine album and the tracks are even better live. Plus, it's pretty sweet to ride to.
Witness..
With that I have to go find my black hair dye and makeup.
Later.
Photo: gallica.bnf.fr