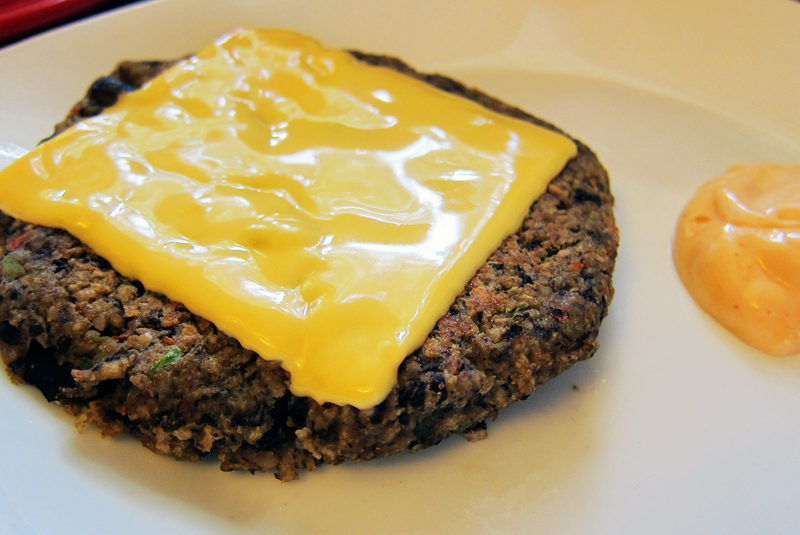 Long time Soiled Chamois readers (all two of them) are probably familiar with my early summer Cat 5 Cooking project entitled The Soiled Burger Project; a meaty attempt at making a burger that was tastier to my aging, dulling taste buds. In my opinion, the results were great and I eventually settled on a burger that I really enjoy eating and turns out perfect for me on a consistent basis. However, I started to enjoy a few too many of them. Many pounds of ground beef were happily eaten. Then, just as I started looking into buying my own cow, and just shy of developing SCOMS (or as it is unrecognized by and not at all referred to by the American Medical Association: Severe Chronic Ongoing Meat Sweats) I decided that I had found my burger and it was time to move on… time to move on to something a bit more, how should I say this… vegetarian?
No, I have not shelved my Gazelles for leather-free Jesus sandals, started listening to Morrissey (any more than usual, which is a bit much), growing my hair out, shunning deodorant and making signs for PETA rallies (stereotyping… it's just easier). I enjoy cooking and eating meat too much for such things. BUT, I know when I've had too much. I also know that while I have enjoyed store-bought veggie burgers in the past, they have a few too many added colors, extracts and bizarre sounding enzymes for my tastes (please ignore the fact that I topped the burger this day with nasty fat-free cheese & mayo, I was desperate to cut a few calories) and that I prefer to make something on my own if I can. Well, that and I'm bored.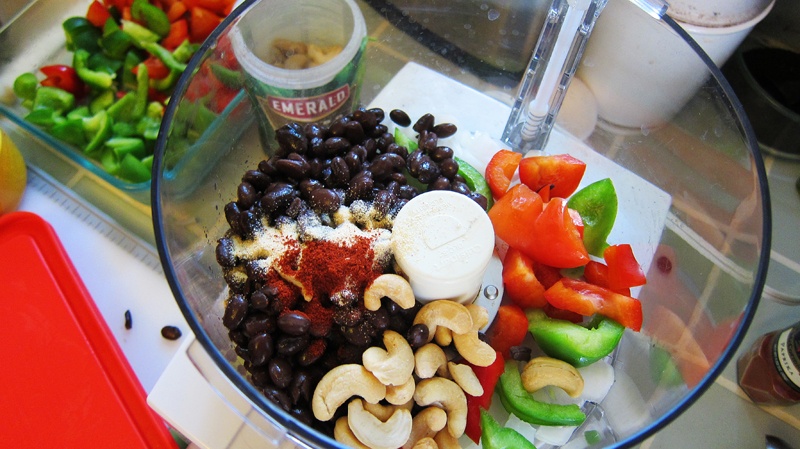 So, I did a bit of research (I used Google), made a few different burgers (failing MISERABLY at a couple) and finally settled on one I really liked. I call it (you'll be shocked by this) the Soiled Black Bean Burger.
First, let me say, the Soiled B-3 is NOT trying to replicated a beef burger. I think that is where so many store-bought veggie burgers fail. My objective was just to make a healthier, homemade, vegetarian sandwich that happens to be in burger form. I used some trial and error and got a nice bit of help from seriouseats.com. There are some excellent tips there (like adding cashews and cooking at medium heat) and in the future, when time allows, I am sure I will utilize some of the other tips and ingredients. I urge you to check that post out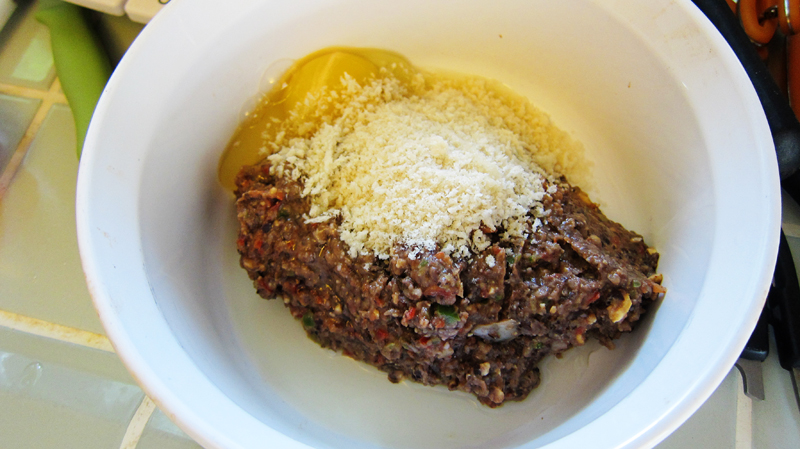 Secondly, let me say, your mileage and tastes may vary, add what you want and what spices you like. The great thing about these burgers is that a can of black beans costs like a dollar, if you screw it up, it's not THAT big of a deal. Unless of course you don't have a dollar, then it's sort of a big deal. Of course the other ingredients can add up… so ignore all that. Don't screw it up.
Ingredients
1 can of black beans (drained and rinsed)
1/2 cup diced red/green bell peppers
1/3 cup dice onion
1/4 cup of cashews
1/4 tsp of paprika
1/4 tsp of cyan pepper
1/2 tsp of garlic powder
3/4 cup panko breadcrumbs.
1 egg
1/4 tsp-ish of kosher salt (to taste)
1/2 tbs of extra virgin olive oil (for cooking)
Directions
Drain and rinse one can of black beans and add nearly all of them to food processor.
Dice peppers and onions and add to food processor along with cashews.
Add dry spices.
Pulse processor a few times to mix it all through. You just want it mixed through and a bit chunky, NOT too runny or liquified. (See photo above that looks like bear scat or a puked up Nestle Crunch Bar).
Add bean mixture to mixing bowl.
Add egg, bread crumbs and remaining beans, which I like to give a little "smash" to with a fork. Mix through with a spoon.
Form three equal sized burger patties.
Add olive oil (or similar) to skillet and set to medium heat.
Cook roughly 4 minutes on each side. You want the burgers firm and cooked through, medium heat is key to this. Too high and they get crispy on the outside and leave raw egg mush (bear scat) on the inside.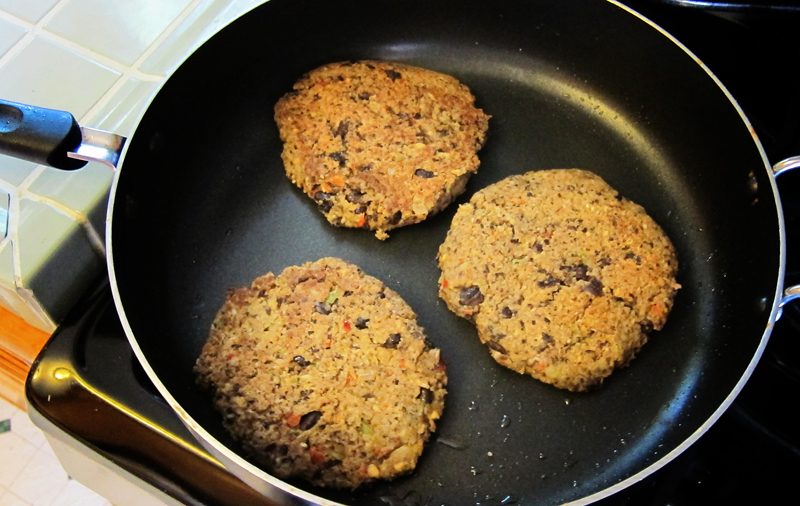 The recipe made three large patties, topped with fat free plastic cheese and served with a side of fat free chemical laced mayo & sriracha sauce. You could easily eat these burgers on a toasted bun with the toppings of your choice. I chose not to.* Again, the spices I used were just my personal preferences. Use what you want, I am PRETTY sure the Foodie Gestapo won't bust your door down and threaten you and your family… then again, what do I know?
Rough nutritional value per nude burger (give or take a few calories and grams):
Calories 295
Total Fat 10g
Carbohydrates 20g
Dietary Fiber 5g
Protein 12g
Black Bean Bonus: Black beans don't just provide hours of post digest entertainment (Hey B-Man, pull my finger!), they also contain some pretty good nutrition. According to The Best Things You Can Eat (by David Grotto, RD, LDN), black beans contain generous doses of fiber, folate, iron, magnesium, manganese, molybdenum, phosphorus, protein and thiamine as well as potassium and zinc.
*Edit: I had one burger left which I stuck in the fridge. For today's lunch I nuked it and put it on a toasted sesame seed bun with a slice of cheese and it was awesome. I think the burger tasted even better the second day.