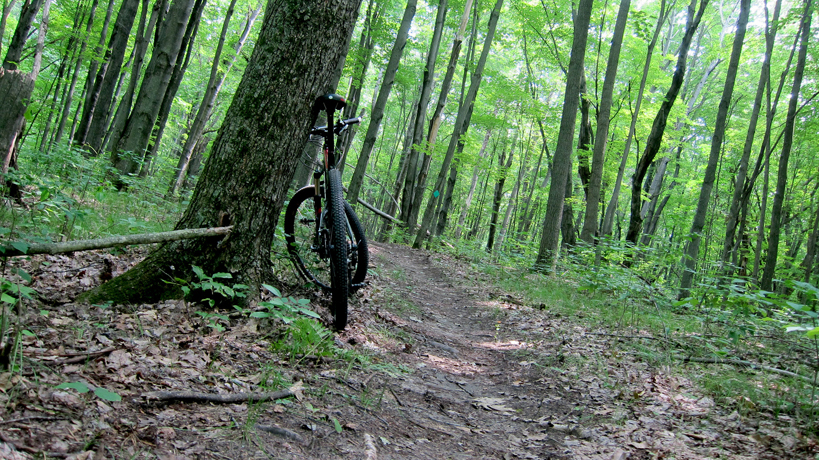 The past week was once again low on hours in the saddle and high on Dad duties and other activities. I'm not going to complain about that, I'm very lucky to have been given the opportunity (thanks to the size of Wifey's brain) to hang out with my son during the summer rather than send him to camp or seek "baby" sitting so I can utilize my utter lack of education and useless past work experience working at Taco Bell…Not that there's anything wrong with that (if you're 17), Taco Bell makes some fine quasi, sort of, not at all authentic Tex-Mexican-ish foods that are beloved by the obese and stoned college kids world-wide (except Mexico).
However–as I mentioned in quick post yesterday–I was able to get out for a double dip of dirt on Saturday and slow-paced loop on Sunday. Joy!
Believe it or not, I actually had a vague plan for Saturday's ride: I would do one full sixteen-ish mile on my Superfly, then swing by the xB, do a bike swap and do another, shorter ten-mile lap on the Pugsley. It was super fun… until it hurt.
The first lap was a fast (for me), hot, sweaty blur. My back was feeling swell, so I pushed the pace as much as I could and turned out a non-stop, photoless, sixteen-ish mile lap. It was a fast lap but sadly still over four minutes slower than the hot lap I did with my buddy Chris a couple weeks ago. I suppose that is the power of riding with other people!
After the lap, I stopped and made the sweat dripping swap from 26 pound, carbon, full suspension race bike to 40 pound, full rigid, steel fat bike. The difference was noticeable to say the least.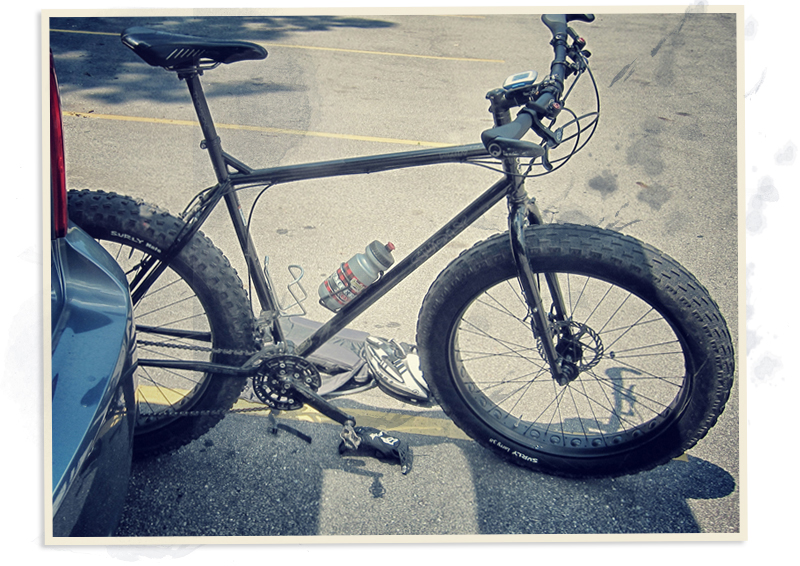 As I maneuvered and strained to get the Pugsley out from the back of the xB, I couldn't help but think to myself how stupid what I was about to do was. I mean I had just turned one of my best laps of the year and now I was going to trade that to creep around some of the very same trails like a hulking Tiger Tank? Oh well, I've never been known to be that bright…. good looking… successful… funny…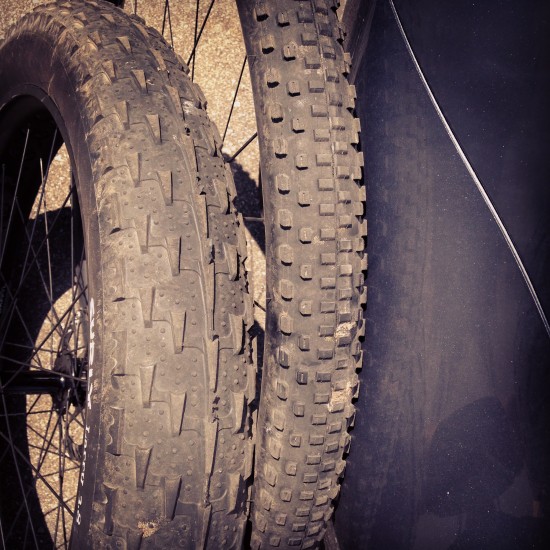 While there is no doubt that flying around the woods on singletrack is fun, it's also nice to break it up a bit and still remain on a bike in the woods rather than opting for pavement or even gravel roads. Not to mention (as I joked yesterday) I have found that riding a 40 pound fat bike on singletrack to be quite a full body workout. The strength and gesticulating it takes to get that beast of a bike uphill has everything working overtime: legs, core, back, arms. It's like CrossFit™, except you're riding on giant ass tires through the woods and not inanely flipping them in a stank, testosterone fueled garage awaiting a disc to herniate or a turd to shoot out like a bullet from betweenst your strained to the max glutes.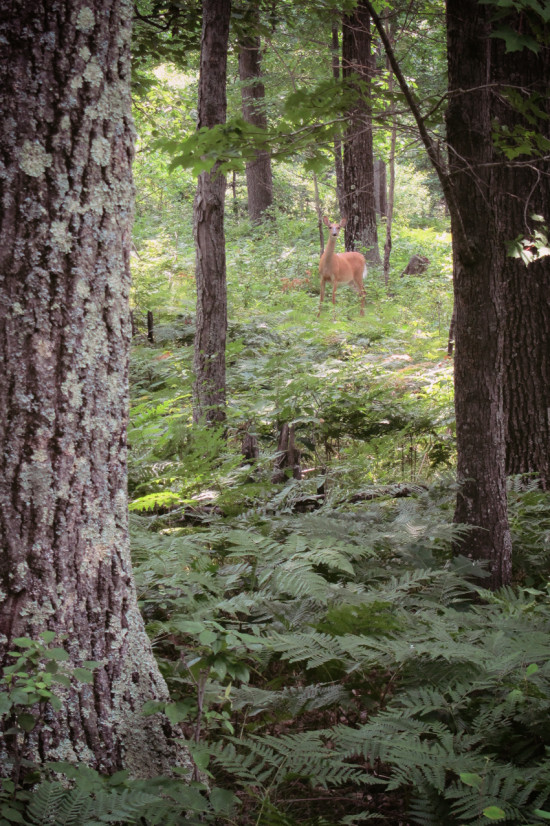 Despite the additional effort in the afternoon heat, the lap was fun. I whirled around the singletrack sounding like a gravel hauling dump truck, plowing easily through deep sand sections and rolling over rocks and roots with little issue despite being on a full rigid bike. Still, after having pushed hard the first lap, I was feeling every pound of the bike on the lap's final climbs and I was just fine with calling it a day after the ten-mile loop, finishing with about 26 miles on the day and just enough left in my tubby tank to putz around the mushroom strewn loop on Sunday.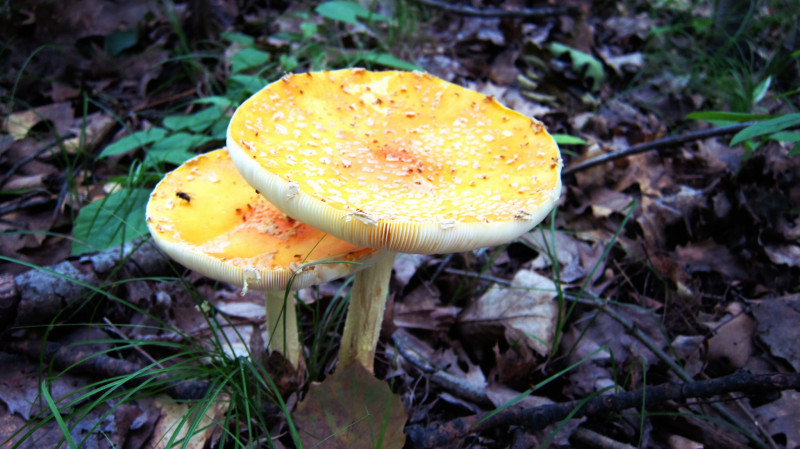 Not sure what the deal-eee-oh is, but the Michiganderburgh woods are alive this year with all sorts of fungus, fungi, mushrooms, toadstools, knob heads, bell ends, etc., etc.,  and I took the time on Sunday's 16ish mile chill ride to snap a few photos.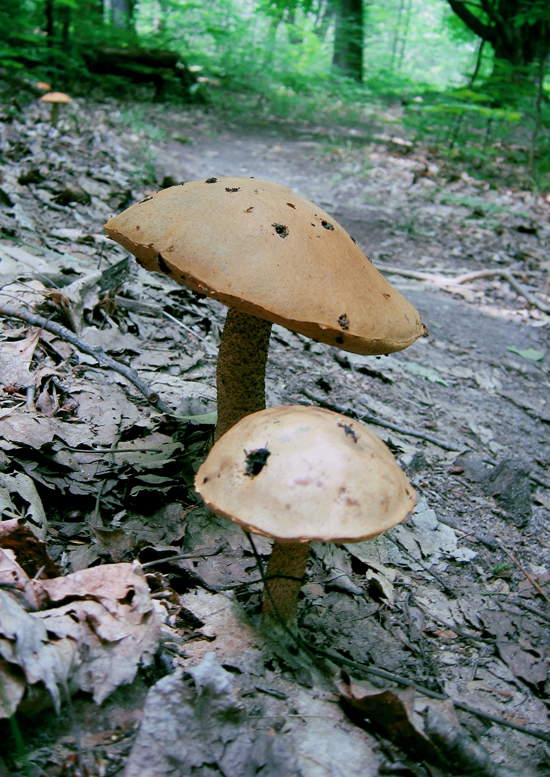 There were so many different sorts of mushrooms of all colors and sizes, it was really pretty neat, sort of like riding through Wonderland or some such thing. It was nice to spend so much time on the trails this weekend and even better to be doing it with little back pain.
I may have the chance get out more this week than in the past and next week B-Man is spending a week with his grandfather in Pittsburgh, so I should have ample opportunities to get out and explore some new trails.
Later.