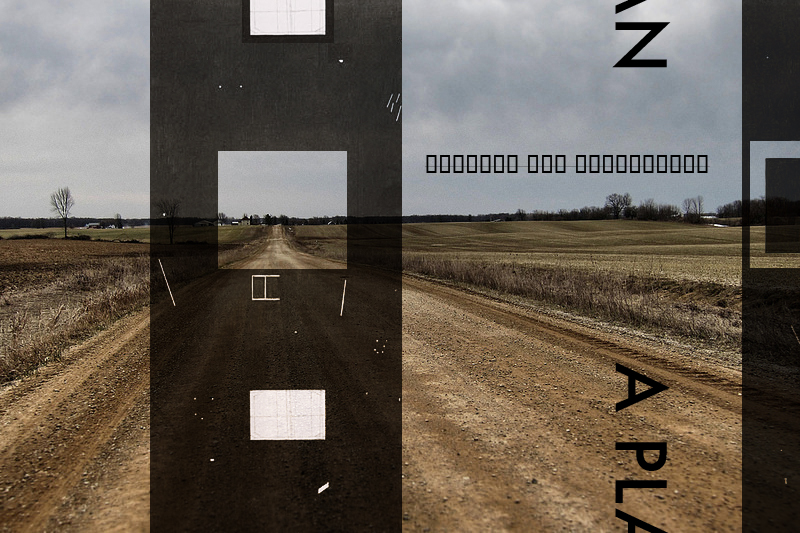 It's been a while since I had a plan or a goal when it comes to my riding and/or racing. The last time I had a plan was probably back in 2011. We moved to Michigan in the fall of 2010 and my goal for the coming season was simply to race as much as I could so I could get a read on the scene, the riding and the trails. And that's what I did…
In 2011 I raced gravel road races, XC, 6 hour races, marathons, hundies, whatever there was to race, I tried to race it (except for road or cross, let's be serious) and ended up doing more races in one season than I've ever done before. I believe I did 13 races (including a DNF at the Lumberjack after close to 70 miles of racing). At the same time I was still running XXC Magazine, getting a ton of dirt road riding in, and an adventure here and there with my newfound riding friends here in Mt. Pleasant. It was a great year for me. Then I started losing it.

Some of my "losing it" had to do with an off-season shoulder injury I received riding falling on icy roads that winter/spring. The injury took way longer to heal than I expected and while I was still riding, I didn't feel comfortable racing until practically mid-summer. In the end, I ended up doing only a handful of races that season, one of which was another DNF at the Lumberjack 100 when I snapped a derailleur near the end of the first of the three lap race. I did rebound a week or so later and had a good time racing down in West Virginia at the always killer Hilly Billy Roubaix.
However, even with having a fun race at the HBR, I was continuing to lose interest in racing. I did the Ore To Shore later that summer, then pretty much shut down my racing for the year. I was still riding of course, just not racing.

I entered 2013 with some mojo slowly returning. I convinced myself to keep the magazine going and had hopes of getting my want to race back in full swing. That March I once again raced the Barry-Roubaix, doing the 62 mile race in frigid, ass puckering icy conditions, then it was onto the Rust Shaker XC race in much warmer conditions where I did an unplanned belly slide down the trail during my first lap and forced my scraped and stiffening body to the finish in nearly last pace.
Despite some lingering trail rash, I was feeling pretty good and I was looking forward to racing the Hanson Hills 50 mile race that is run in conjunction with the 100 miler. I raced, it felt great (aside from having to pull off the trail during my first lap to take a shit) and was hopeful for more racing as the summer went on. Then just a couple of weeks later I found myself in the hospital emergency room with yet another DVT in my leg. Shit, f*ck, crap, Goddamn, f*cker!!
After a few weeks of chilling out, doing some fishing and letting my leg get back to its normal size I was back on the bike and riding (not that my doctor was/is happy about that, but that's just the way it is). Riding felt great, but my want to compete and race was now at an all time low which was made worse by letting XXC slip away from me and calling it quits that October. Looking back on how I felt mentally at that point, I'm sort of shocked I was even continuing to ride. I was NOT in a good place. No, it wasn't any kind of After School Special suicide watch bullshit, but it wasn't good. I was in more of a "f*ck racing, f*ck you, give me a twelve pack and f*ck off" sort of place. All part of growing… or regressing, take your pick.

As I went into 2014 I had NO idea what I wanted or expected from my riding. I didn't know if I would race and if I did I didn't know how many I would do. I just figured I'd ride and do a race here and there and see what happened. Once again found myself lining up for the Barry-Roubaix gravel road race in March. After the icy-shit fest the year before, I opted for the shorter 35 mile race this time. I raced, I finished, it was OK and I rode away thinking that I loved riding that course (preferably the longer course) but that I had no need to do it with thousands of other racers again.
Next up was the annual Rust Shaker XC race on what I consider my home trails about 25 minutes north of town. I did OK, finishing right in the mid pack of the Vet Open class and figured I would keep on keeping on and see what happened.
That WAS the plan until a few weeks later when I went back up to those trails, clipped a tree at speed and slammed myself down hard. My bell was rung and my back was f*cked. For weeks to come I felt like a f*cked up pretzel on the bike and racing was the least of my worries. At this point I just wanted to ride without pain.
I kept riding though. A few times I only went a few miles before I said "f*ck it," turned around and headed home. Other times I rode for hours and felt great. I blamed the injury, but also thought maybe I was just getting old. More than likely, it was that I just didn't give a shit.
In 2014 I did two races for a combined distance of roughly 60 miles. I've done 60 mile mountain bike rides in the past just for the f*ck of it, yet after more than 10 years of racing I was doing two measly races and calling it a year. I wanted to be sad or mad, but I can't say I really cared… I mean I was still riding four or five times a week, what did I need racing for??

Now here we are in 2015, it's been four years since that year of uber racing and many years since I actually cared about sponsors, schedules or had any REAL aspirations as a racer. While I have no plans to give up mountain biking (in the riding singletrack because it rocks form of the word), I have started taking that grimace my doctor gives me when I tell him I'm still racing a bit more seriously. Yet, as much as I've got used to not dragging my ass out of bed on Saturday or Sunday mornings to go race, I do miss it. So I am left trying to formulate a plan.
I thought that plan was going to involve doing some fat bike races this winter (and it may still) but I lack the want to drag my ass out of bed when it's -10˚ to race my bike or do ANYTHING for that matter. Not that I haven't ridden my bike in cold, shit weather, it's just that I don't know if I feel like paying for the privilege of being cold and miserable right now when I can do it for free on my schedule.
Also, I believe (and this changes back and forth depending on the hour of the day and if I've had any beer or not) my future race plans come down to this: keep on "training," don't sweat being a slacker (it feels nice sometimes), keep on riding as much as I can on trails, roads and gravel, but come to grips with that fact that while I love riding singletrack, given my past (medically speaking), maybe it shouldn't be my first choice for racing. So, I am kicking around the idea of just taking XC and (almost all) endurance mountain bike racing out of any future race plans. 
I've never been all that competitive of a racer anyway, so I'm thinking of reserving most of my "racing" for some of the lower key gravel and dirt road races that are going on here in central Michigan, in the U.P., and a few out-of-state. Not that I couldn't crash and find myself in the same situation in one of those races as I could on the trail, but I just feel there's more room, often more of a laid back feel and that it would help feed my want to race. It would give me a reason to keep riding and pushing myself and that is always a good thing.
As for the mountain bike racing, I'm kicking around the idea of going to a few of them, but just to hang out, cheer on friends and take some photos. I have been getting more and more interested in photography over the years and this might be a good opportunity to take in the race atmosphere, be part of racing,  yet stay alive and un-battered. No, I am not thinking about becoming an "event photographer" but I do dig the sport and trying to promote it. Who knows, maybe in a year or two I'll be ready to try my hand at putting on a race?
This may just be the long Michigan winter talking and what I've got going on in my mind right now might not actually be the plan or A plan at all, but it's the start of something. My fitness and health as well as B-Man's spring soccer season and tournaments will all play a role in what and where I race of course and maybe I'm just blowing smoke up my ass (I can do that, you know!). Maybe I won't do a Goddamn thing? Maybe deep down I actually enjoy becoming fat, lazy, complacent and sloth like? But I doubt, a loose plan is better than no plan I suppose.  All I do know is that there will be miles ridden, photos taken, and more of this crap blog written (sorry).
Now I got split and continuing the planning… or go to bed.
Later.