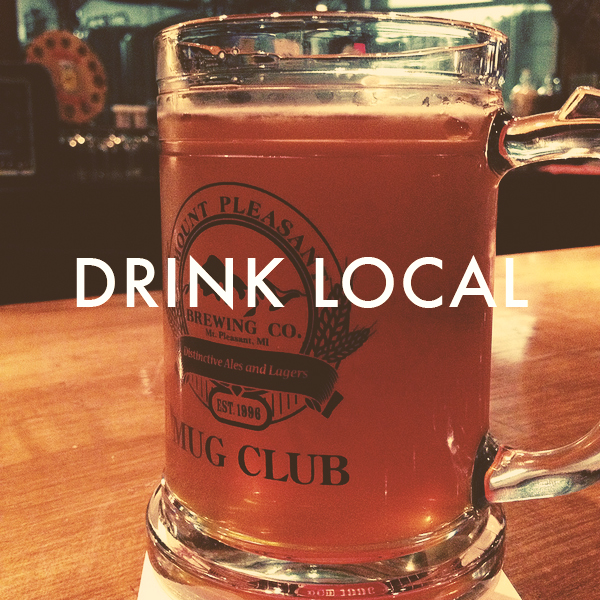 Long before I ever moved to Michigan I was a fan of Michigan brewed beers from Founders and Bell's. Then once I moved here I found even MORE delicious beverages from breweries like Short's, Arcadia, Brewery Vivant, Dark Horse, Greenbush, North Peak, Right Brain and many more.

I am also lucky to live stumbling walking distance from pubs like The Brass Cafe and The Bird that aren't afraid to serve craft beers from all over Michigan and the country.

One place I end up once a week or so with my riding and race friends is the Mount Pleasant Brewing Company's Tap Room, where I am a proud Mug Club member. They sport a nice selection of standards; Steam Engine Stout, Wit Dream, Iron Horse IPA and the potential 8.2% kick in the crotch known as Train Wreck Amber Ale. More often than not though it's the small batch and experimental stuff that I really enjoy. Sometimes's it's amazing, sometimes… um, not so much. Either way, it's all good and I'm happy to support a local brewer like them. It's also one of the few pubs in town that is just far enough from the university that it doesn't get inundated with frat boys and their ilk, making it possible to have actual conversations.

Recently students from the students of Central Michigan University School of Broadcast and Cinematic Arts made a short video about the brewery. Check it out–

I like the end when they show the train tracks that run along side the brewery. Just about every road and gravel ride I do has me crossing those tracks, although be it a few blocks over by their brother the Mountain Town Station.

Yep, Michigan, the 989 and Mount Pleasant isn't too bad of a place for those who like to drink local.