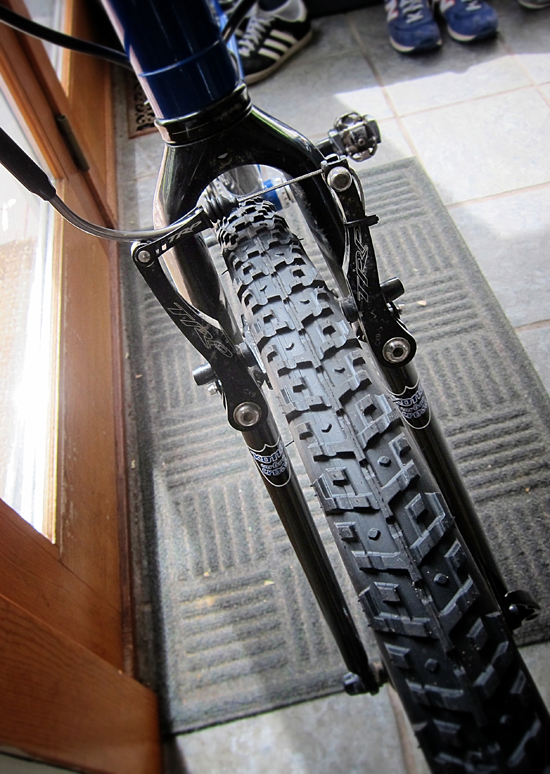 For some reason, earlier this summer, I fell out of love with my four-year old Jake The Snake cross bike (which has never been used for cross, only gravel riding). I'm not 100% sure why, but after putting literally thousands of miles on it, I've been opting for my Ti El Mariachi mountain bike whenever riding gravel and dirt roads. Not wanting to see the bike sit idle, and knowing that if I tried to sell it I would get very little for it, I had the cassette, chain, cables and pulleys replaced (something that should have happened about a year ago). Now I am making a last-ditch attempt to save the Jake from becoming a two-wheeled clothes hanger and my El Marichi from becoming nothing more than a flat bar Fargo. I also picked up some new meats from WTB: the Nano 700 x 40 Comp.
It appears the Nano's more aggressive than most cross tires tread, girth and added volume will get the job done on our shit Michiganderburgh dirt, gravel and paved roads and maybe add some comfort. From a short spin around the block yesterday they seem to roll pretty good on pavement and look meaty and delicious on the Jake.
In about twenty minutes they tires are going to get initiated into gravel and wet cement-like Michigan dirt roads, I suppose after that I will have a better idea of what the future holds for the J.T.S.
POST RIDE UPDATE: Sometimes it is about the bike. The tires were great, but I think my relationship with the Jake The Snake is over. Wanna buy a cross bike?