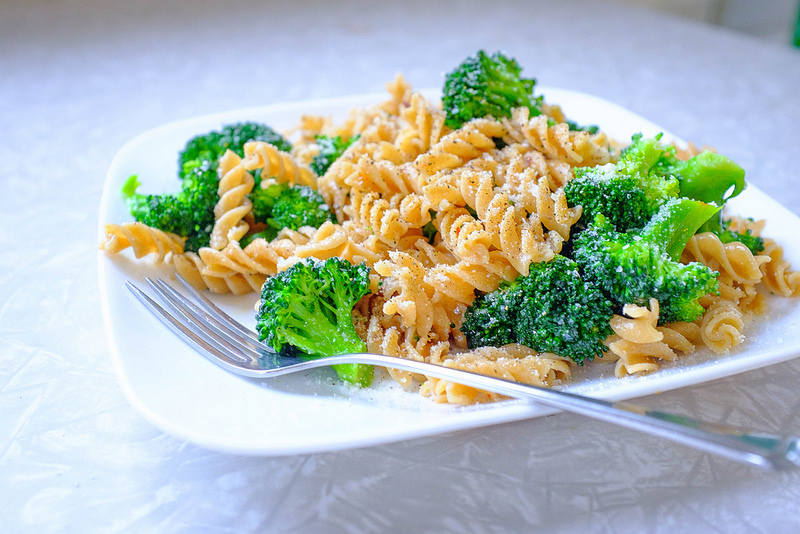 Part I, The Broccoli
Wednesday was a planned day off the bike to get some things done during the day (the least of which included washing two months worth of mud off the Boone) before heading into the Stankment™ to do some treadmill sprint intervals and strength training in the evening.
It was also my day to not eat leftovers and make myself something tasty for lunch. That something was one of my fave standbys: whole wheat pasta tossed with fresh, store-bought, not at all locally grown, non-organic broccoli, garlic and extra virgin olive oil.
When I was growing up the closest thing to a vegetable I ate was a mound of mashed potatoes or corn on the cob slathered in butter and salt. As you might imagine I looked exactly like those were the only vegetables I ate. Then, still 100 pounds overweight at the time, I discovered the gateway drug to vegetables: Broccoli and Cheese Soup. Yeah, that's right, melted processed cheese/broth with tiny bits of broccoli floating around in there somewhere. It wasn't at all good for me, but it opened my eyes to how wonderful vegetables could be. How wonderful they could be covered, dipped, floating, drenched, or slathered in cheese, glorious f*cking cheese!!! This of course did nothing for my weight problem other than give me some raging stank gas and veins clogged with Velveeta.
Having said all of that, when I did finally say enough is enough and start losing weight by cleaning up my diet and exercising (outside of contracting a disease, there really is no other way to do it, sorry), I got around to ditching the cheese (for the most part) and finding other not-so-crap, but arguably still crap, ways to eat vegetables: stir fries with rice or pastas, big salads, steamed or tossed with olive oil and roasted.
This of course did nothing for my weight problem other than give me some raging stank gas and veins clogged with Velveeta.
An on/off again staples for lunch or dinner over the past 20+ years has been the aforementioned fresh broccoli and whole wheat pasta tossed with sautéed garlic, olive oil and red pepper flakes, topped with some kosher salt a little bit of parmesan cheese (you knew there had to be SOME sort of cheese, how do you think I maintain this oh so enviable muffin top??). Serving size depends on whether it's for lunch or dinner. Sliced chicken breasts are always an option if/when you want some extra protein.
The great thing about this meal is that it takes roughly about ten minutes to make and has a shit-ton of fiber (no pun intended… OK, the pun was intended, sorry). This makes it perfect for a quick lunch or post evening ride dinner.
Part II, The Barbells

Today, that quick lunch served as fuel for my quick evening workout in the Stankment™ and my further attempts to become stave off the continued growth of my muffin top and cling on to some semblance of fitness in my mid-forties. I'm no longer one to really talk about workouts and that bullshit (there's enough internet ass clowns out there), but I did try a new high intensity weight workout tonight and it kicked my ass using very low weight (I like that!). I also added in some intervals on the treadmill (because I can't stand the thought of not doing any cardio) and some stability ball crunches (because I can't stand the thought of any more people telling me that I need to work my core to help my back). By the end I was a sweaty mess of human suck. I also found myself .00005% more hairless and .00003% more shirtless, muscle-bound Asian than when I started [that makes more sense if you see the workout's instructional video here].
Notes of no interest: I did three sets instead of the prescribed four using 30 pounds on the curl bar, which was a bit more than recommended for the first go. I also did a five-minute warm up on the treadmill and added three six-minute on/off running intervals and three sets of thirty stability ball crunches to the routine.
Dude, you gotta do this workout, I'm shredding fat
and making serious gains!!
Dude, you gotta do this workout, I'm shredding fat and making serious gains!! I'm joking of course, I do this shit to make riding slightly better, not ever be 300 pounds again and to not feel as guilty when I drink beer(s), eat eleven slices of pizza, or eat mayonnaise out of the jar like it's ice cream as I top my burrito with it.
Hoping to get ride in tomorrow, but I have some landscapers coming in the morning to take care of some stuff that I didn't have the means to do during last week's session of Let's Fix This House Up So We Can Sell It.
Gotta split, I think I left the mayo out.
Later.