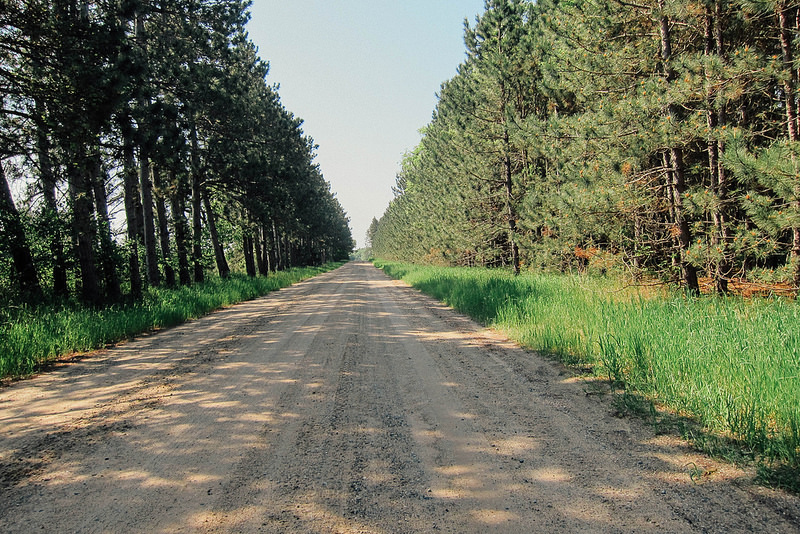 I am going to try my best to catch up on my blogging, if for no other reason than I want to. Reading this dross is up to you, typing it is up to me. The fact that either one of us takes the time to do either of those things baffles me.
I briefly checked in with a crap post on Thursday which alluded to a 47 mile dirt road/paved ride that I did that morning. It really was a sweet ride. There wasn't a cloud in the sky, the wind was tolerable and as bonus I got a push home from a slight tail wind.
I took a new road here and there and got to go down another pine tree laced dirt road that smelled in-freaking-credible. If you ever had one of those pine tree shaped air fresheners in your '92 Cavalier and thought it smelled like pine; forget it, it smells like crap car and urinal cake. And I should know, because I've had both (a pine tree shaped air freshener and a '92 Cavalier, not a urinal cake).
The trees in the photo above were full of pine cones and an amazing pine smell, which when mixed with the scent of freshly plowed earth and manure from the nearby farms, made me randier than a [insert offensive, sexually explicit off-color metaphor here]. SNIFF!
Along the way I passed yet another potential place to squat once, if after nearly eighteen years, Wifey wises up and throws my ass to the curb. I'm not sure there's enough room for my bikes, but plenty of room for me and my fart stank, I think.
The central Michigan area had some heavy rains last week, so some of the roads were soft and squishy. Not too muddy, but many of the dirt roads were like riding on packed down wet sand; not the worst in the world, but not the best either. As I rode along one dirt road I unfortunately saw a dead bird. I've grown to dig seeing the different kinds of birds out on the dirt roads, and unlike deer, possums, raccoons, and snakes, I often wonder how the hell they get killed in the middle of the road. I really wish I could have got a shot of this bird–which I think is a Yellow-bellied Flycatcher– when it was alive, sadly a shot of a dead one on the road will have to suffice. Sad face.
This particular ride is about 70/30 dirt vs. pavement, but even the pavement is pretty fun to ride (and as you know, I am no big fan of pavement). Of course I am a HUUUUUGE fan of Pavement. I mean this shit pavement is just fun to ride; low traffic, rolling, and mostly void of potential dick-head motorists.
Eventually I worked my way north of town to Baseline Road. Baseline is a popular road for area cyclists due to the fact that the pavement is swell, and there is a generous shoulder. At some point during any ride you do out of MP you have to go east or west, so it might as well be on Baseline.
As I made my easterly way on B-Line I saw a dude in the middle of a farm field. My first thought was "I think this dude has parked his car on the dirt road, walked thirty plus yards into a field and decided to take a piss." And I was right, for as I got closer I could see the arching stream of urine glistening in the spring sunlight. Sigh… Part of me thinks that this is the same dude that litters Baseline, and other area roads, with bottle upon bottle of spent Popov Vodka bottles: drunk jagoff!  I should know, because I myself am a drunk jagoff. Mmmmm…. Urine laced corn…
All and all it was a good ride. Things hadn't worked out for a post-work ride on the Alma mountain bike trail (AKA Sally's Trail) on Wednesday, but this ride made up for it.
Friday
Friday I was back to work at the shop and spent the day helping various customers buy helmets and fix flats. I also did my fair share of fucking shit up. Having never worked in a retail environment, or even operated a cash register, all of this is new to me. On top of that, I said things, did things, and re-did things that not only made me question whether it was Friday the 13th (it wasn't) but also if I am a complete and utter fuck up (I probably am, but my bosses seem to like me and I dig them, so everyone sort of wins).
After the UPS truck arrived I sat about checking in new inventory, some of which were some factory built wheels in from QBP. I logged them in and was told to take them to the basement to hang up with the others. I went downstairs, hung them up on the wall, turned around and nearly shit myself! For some unknown reason there is a naked female manikin in the basement of the shop and it scared the shit out of me. Once I gathered myself I checked my shorts for stains, took the pic above, and grabbed a free, hard plastic boob squeeze (I'm only human-ish) before returning to work.
Wifey was heading back to PA to see our new niece Nadia, so I had to cut out of work an hour early, but it was sweet to get another couple of days in. I'd be lying if I said it also wasn't nice to actually be making money for a change and not just trying my damnedest to try to just break even like I did with XXC Mag. Me and retail work might not be a match made in heaven, but it's nice to still be doing something related to cycling, earning some coin and digging the folks I work with for a change.
Saturday
With Wifey out-of-town visiting family, I am lording over B-Man for the weekend. Or maybe it is B who is lording over me? Either way, it was me and my little dude for the weekend.
Part of my Saturday was to go and watch B's final home game of the year for the MP Soccer Club. It was pouring rain all morning and a "warm" 55˚ at the 1 PM kickoff. The MP U11 boys played hard and the first half ended 1-1. After early goals from both sides in the second half, MP found themselves down 3-2. Shortly thereafter MP broke the opposition down and ended up wining by a lopsided American football score of 7-3.
B scored his third goal of the season when he made a clearance from around mid field which took a slippery bounce and eluded the keeper. He confessed to me that it was indeed a clearance but once he kicked it he thought it might have a chance; he was right. In his words– "if it didn't go in, I'd just say it was a clearance!" Cheeky.
I was freezing my tits off by the time we got home! After some hot showers, a change of clothes and some lunch while watching the DVRed FA Cup final from earlier today we went off to DICK'S Sporting Goods to return some stuff, pick up some new boots for B and a 2015 fishing license for me.
So far this weekend the weather has been crap-tastic and void of riding. That may or may not change tomorrow. If not, no big deal, I'll hang with B, maybe go fishing and await the return of Wifey. All my riding will be in the ballsy, sack part of the coming week as the bell end will be spent at the dentist and working at the shop Thursday, Friday and Saturday.
Time to chill…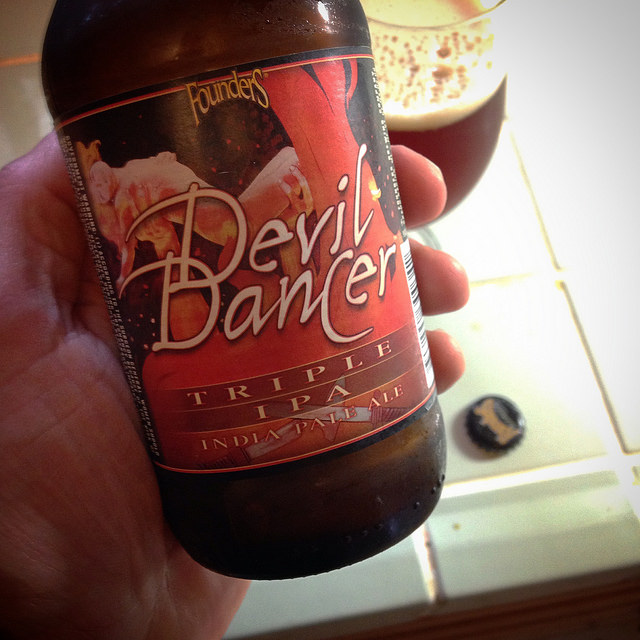 Later.
Note: Edited several more times on Sunday morning. I shouldn't drink and blog.