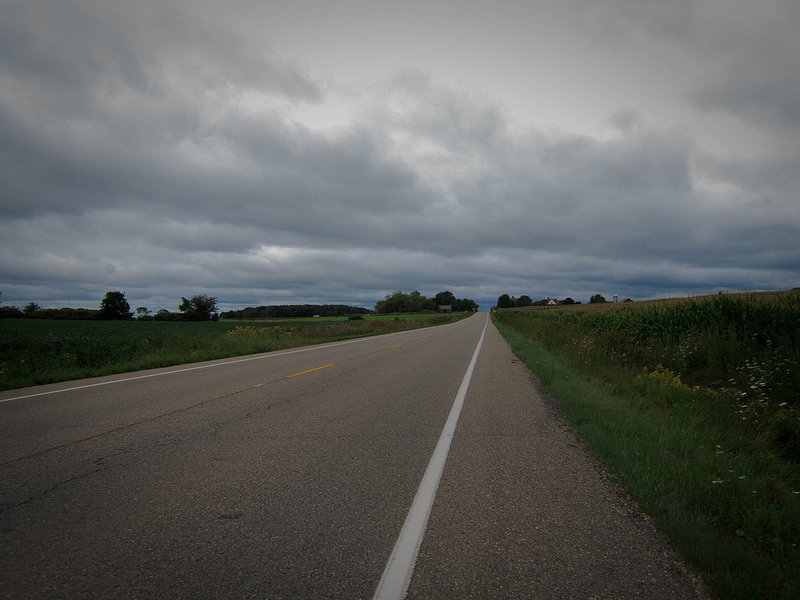 I'm not one to complain about weather (that's a lie, I love to bitch about it), but the goddamn sun could shine again any day now! Today is the fourth day in a row that dark gray skies and dank, unusually chilly August temperatures draped over mid-Michigan like an octogenarian hobo's scrotal sack. The lack of sun is normal back in my old state, but from my experiences with Michigan the past five summers, this is pretty unusual. Of course in two months I'll be bitching about the fact that I got snowed on during my ride or crashed on ice. A goddamn meteorological malcontent is what I am (amongst other things).
I have to say, compared to the 90˚ temps we had just a week ago, riding in 60˚ temps is pretty damn refreshing. The problem lies with motivation to ride when it's this gray and dark. I would be content just to lay in bed all day watching short films on AdultOrientedFilmHub.com betweenst stretches of slumber. Thankfully, even slack riddled morons like myself were blessed by the god of mojo and his minions with coffee.
Today was a two mug sort of morning before I mustered up enough motivation to enter the Stankment to swap out my Nano 40c tires for some rubber with a bit more zip like the 35c Clement X'Plor USH. Or at least tires a bit more rubber left on them than what's left on the Nanos which have a good thousand miles or so of pavement and dirt on them. I really started to hold my breath that I wasn't gonna have a blow out. Speaking of blow outs…
BOOM!
It's taken nearly 25 years of changing tubes and tires, but today I finally blew up a tube. Like I'm not deaf enough already! It was all my fault of course; in my caffeine fueled haste I failed to see that I didn't have the tire seated all the way on one side. The tube of course crept out unbeknownst to me and BOOM!! I shit my pants. Me = moron.
Once I stole a tube from the Jake The Snake–which remains hanging in the basement unsold because people are cheap bastards, want everything for free, and don't know a bargain when they see it–The tires were mounted without further incident and I was ready to roll. Well, not before sitting a box of cereal, bowl and spoon out for the still sleeping B-Man like he was a freaking cat.
My plan for today's ride was to do a ride that would come in around 40 miles and be about a 75/25 split of pavement and dirt roads. A little more pavement heavy than usual, but I figured this would be a good way to ease myself back into rolling "skinny" 35c tires.
Once thing was apparent during that first 11 miles of pavement: the Clement's were MUCH faster than the WTB Nanos and I was totally digging the speed (as a big-boned, crap cyclist I of course use that term loosely) and lack of rolling resistance the tires were offering.
Of course, one thing was apparent once I hit the dirt roads: the narrower Clement's at 60 PSI are NOT as cushy as the Nanos! Faster in all ways, but clearly not as comfortable. I've written here many times that I really dig the Nanos for my dirt road riding (slow), but I've also had years of good luck with the Ritchey Speedmax 700 x 40 (seemed narrower than 40c to me). I think it may behoove me to try something like the Clement X'Plor MSO (40). I'm not sure there is a perfect "do everything" pavement/dirt/gravel tire out there, but the MSO looks like it could potentially deliver.
Having said all that, If I stick with what I know I like and get another pair of Nanos I will opt for the tubeless version. I've yet to get rim strips for the Bontrager TLR wheels that came on the Boone, but I think tubeless would definitely be a benefit. I have to admit I am a little fearful of blowing a tire off a rim at 35+ MPH, but that could happen on my mountain bike [or apparently in my basement] too and I never blink an eye.
Wow, that was a lot of about tires without really saying anything. Oh well, you didn't come here to hear me blather on about gear… of course I have no idea why you, or anyone, would come here.
Most of my daily rides in the past couple months have been hovering between 20 and 30 miles on the Fatty Fatterson, and 30 and 35 on the Boone, so it felt good to get in a tad more today. I guess the idea of getting on that doctor's scale again in six months time is a motivator. Once B-Man is back to school next week I can hopefully start increasing my miles and time on the bike before the snows, blustery winds and frigid temps come. Which in Michigan could be anytime after September 1st! Fucking weather, man.
Between other duties and going down to the shop to finally get my Superfly's rear shock lock out replaced I'm gonna have to squeeze in a ride tomorrow, so it probably will be on the shorter side. Hmm… a short ride done slowly on the fatty or a longer ride done faster on the Boone? Then again, if the sun remains hidden I just might stay in bed.
Later.