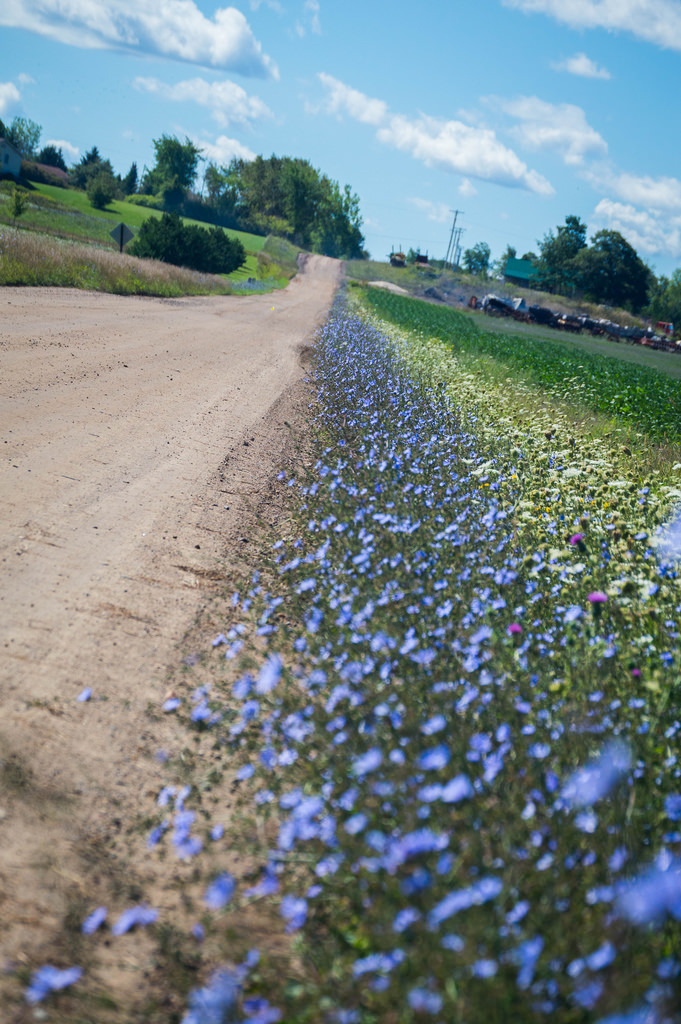 I had to spend two days off the bike as I took care of a variety of house issues that included HVAC repairmen and appliance delivery drivers. Oh well, life happens. With that said, I was anxious to get out for a ride on Friday, but I was also geeked to spend some time snapping some pics with my DSLR. This would normally call for one of my fat bike rambles in which I roll at a slug's pace around Michiganderburgh snapping pics of rural dirt road life as I see it. However, I just wasn't craving a slug's pace, so I brought my 2010 Salsa Ti El Mariachi out of retirement, put my Porcelain Rocket DSLR Slinger on it, and headed out for a ride.
The EM had been my go-to bike for years but for some reason I have grown to find it extremely uncomfortable (especially on singletrack), when compared to the geometry of my Superfly, Farley and Boone (I clearly have too many bike and not enough ability to warrant having them). I almost made the EM my full-time dirt road bike but ended up being suckered into buying a Boone Disc this spring instead. The Boone has proved awesome, but is not quite as good as a flat bar bike at sporting the Slinger.  So even though the EM is out there on the line for sale, I threw some pedals on it and took it out for ride that was too fast to be a "ramble" but too slow to be whatever sort of ride I do when I'm not in rambling mode.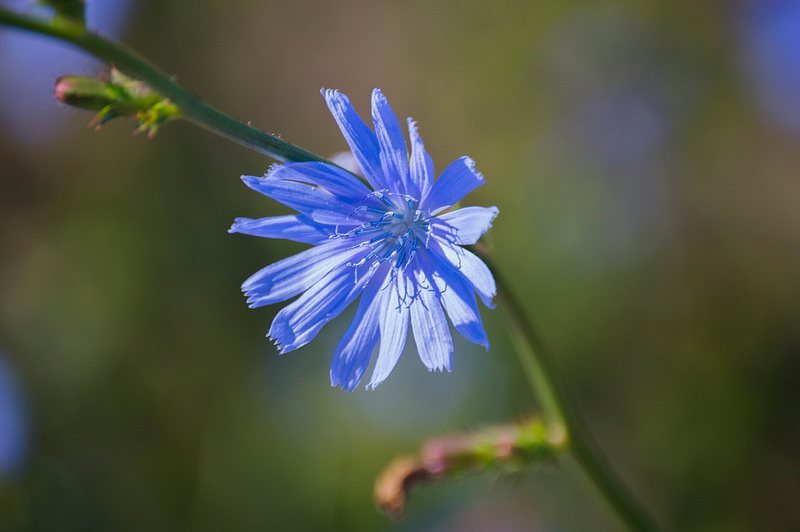 The first five to ten miles had me thinking "why the hell am I trying to sell this bike, this feels gooood." But then as I pedaled on I started getting that all too familiar low back pain; cuss!
The back pain I experience riding the EM on dirt roads is no way near as bad as it is when riding singletrack, so I just kept on truckin' and clickin'.
I will say that the Nano tires I put on the EM do roll really well on dirt roads. If you have a 29er that you like to roll dirt roads on, I highly recommend them. They are not as good as I had wanted on Michigan singletrack, but roll fast. For the record, I am not affiliated with WTB in any way, I bought the 40c and the 2.1 Nanos that I am currently using on my bikes with my own cash.
Despite the fast rolling I couldn't help but feel a tinge of sadness that I no longer feel as good on this frame (yes, I develop emotional relationships with my frames). You see, I got this frame via a bro deal with Salsa back in 2010 when I was racing and doing the mag at full speed, and that meant a lot to me. I raced and rode thousands of miles on it and loved the frame. But as I've gotten older (and fatter) my body just isn't working with the geometry and size of the frame. I'm not anti-hardtail, it's just that a size larger was–and is–probably needed. Sigh…. Memories….
I made it work anyway and had fun riding and shooting pics on an amazing late summer day. The weather was absolutely PERFECT! After a couple of weeks of hot (for Michigan) temps and high humidity (for Michigan) it was nice to ride with temps barely getting into the 70s. It reminded me of those summer days as a kid when you beg your mom to take you and your siblings to the pool and she says it's not hot enough but relents and takes you anyway. Then of course you get in the water, realize she was right and spend most of your time there sitting pool side with blue lips, wrapped in a beach towel, blocking out "I told you sos" from your mom while sneaking peaks at your older brother's bikini clad girlfriend sitting next to you. Don't judge!
I ended up getting a cow's nip under 40 (39.7) miles on the day, which I was happy with considering that my fat bike rambles usually have me maxing out at 30 and taking upwards of three hours. Because of this I really do want to keep a hardtail in my life. One option to avoid the cost of buying a new bike, would be to sell the Ti EM as a frame only and used the cash to find a used El Mariachi (or other frame) a size larger from the same time period with a straight steerer tube and 73mm bottom bracket shell (or just suck it up and use the adapters like I had done on my Spearfish).
I do have to say that by the time I got home I was feeling every one of those miles in my lower back. Nothing a hot shower and a few Friday night beers didn't cure and help me forget. And by "forget" I mean that with my Superfly down with a busted lock-out for a couple more days, I took the EM up to MMCC to ride a lap this morning. Not sure what I was thinking; it sucked, I didn't even do a full lap and I couldn't wait to be done. I would have been better off riding the Superfly (even with it stuck in lock out mode), or the Farley (even with it stuck in big fat mode). I am a fucking moron.
One more week of "real" summer left as B-Man heads back to school a week early this year. The next five days will be spent enjoying NOT getting up at 6 AM, getting some rides in and hanging out with B. I know there is still plenty of warm days ahead of us, but come September each one will feel like a blessing.
Looking forward to hanging out with Wifey tonight, but first I gotta go feed my buddy's dog and check the P.O. box of some friends that just moved to Florida. Then I'm gonna start looking for old hardtail frames.
Later.