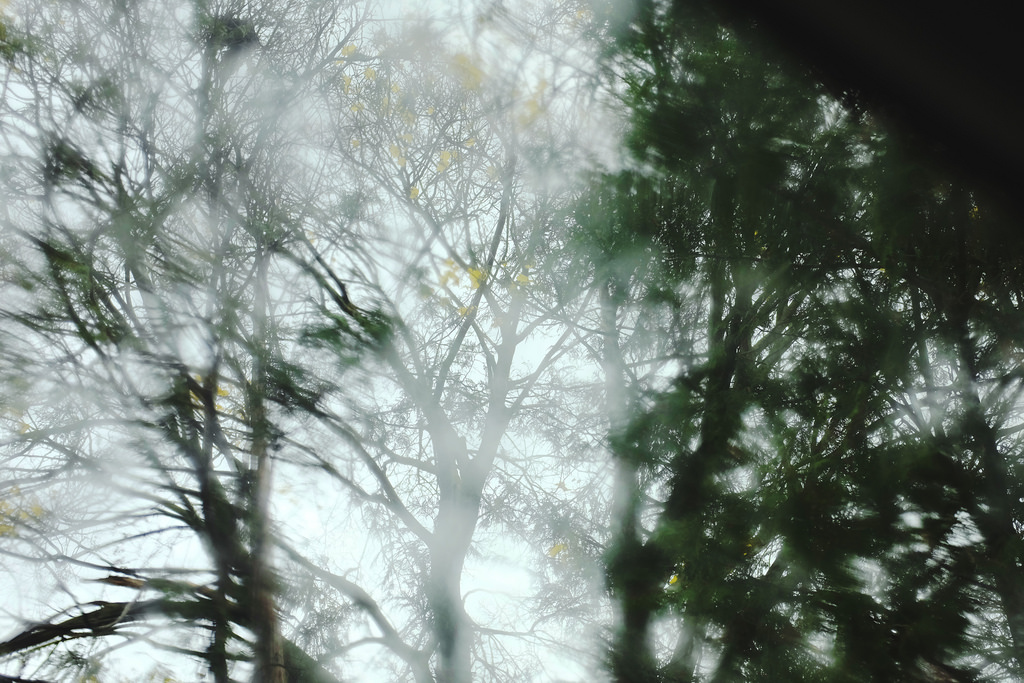 Wednesday night after I helped Wifey out with her strength training, I hung around in the Stankment™ to search through piles of bike crap for a saddle to put on my road bike, a bike which these days stays affixed to my trainer all year round and has been missing a saddle for the past eight months. Knowing that crap weather was fast approaching I searched, cussed, found and installed the saddle in preparation for another day hunkered down avoiding high winds and rain.
Thursday morning as the thirty mile an hour winds bent the trees to and fro in the back yard I retreated to the Stankment™ to climb atop of my road bike with its freshly installed, ancient fi'zi:k saddle to pedal nowhere fast on the trainer. Four minute later I was off.
Nope, can't do it, riding trainers is the dumbest thing ever. I can't, I won't… at least not yet.
I got out of my kit and into some civilian clothes, gathered my bag of Fuji's and prepared to do something outside; a hike around Deerfield burning 100 calories sounded way better than pedaling nowhere and burning 700. Sadly, by the time I got in my car it was pissing down rain right along with those winds.
Shit.
I sat in my car cussing towards the sky but decided not to be deterred, I would just drive and see where I ended up. If I see a photo worth taking I'll stop. If it stops raining I'll continue on to the park and that hike around the bare, brown woods.
And that's what I did.
Rolling down M-20, the not-so-low profile xB was being pushed around like a Matchbox car in the hands of an ADHD five-year old, and the rain came down in ropes. I neared the park entrance and rolled right on by, heading God knows where. I can assure you, I was not happy.
I found myself, for some reason, heading toward the metropolis of Winn, Michigan (population 75, maybe?). By the time I reached "town," the rain started to slacken and I started to see a few things that caught my eye. I stopped a couple of times and fired off a few shots with the X100s and X-T10 respectively before making my way back towards the park and a short hike.
When I pulled in the lot of the park I appeared to be the only car in the lot. However I was soon joined by two more vehicles conducting what appeared to be a clandestine, lunchtime affair vehicle swap. I was going to start snapping pics of them private detective style, just to see their reaction, but thought that might be a tad cruel. Instead I just headed off for a brief, but much-needed, walk in the woods.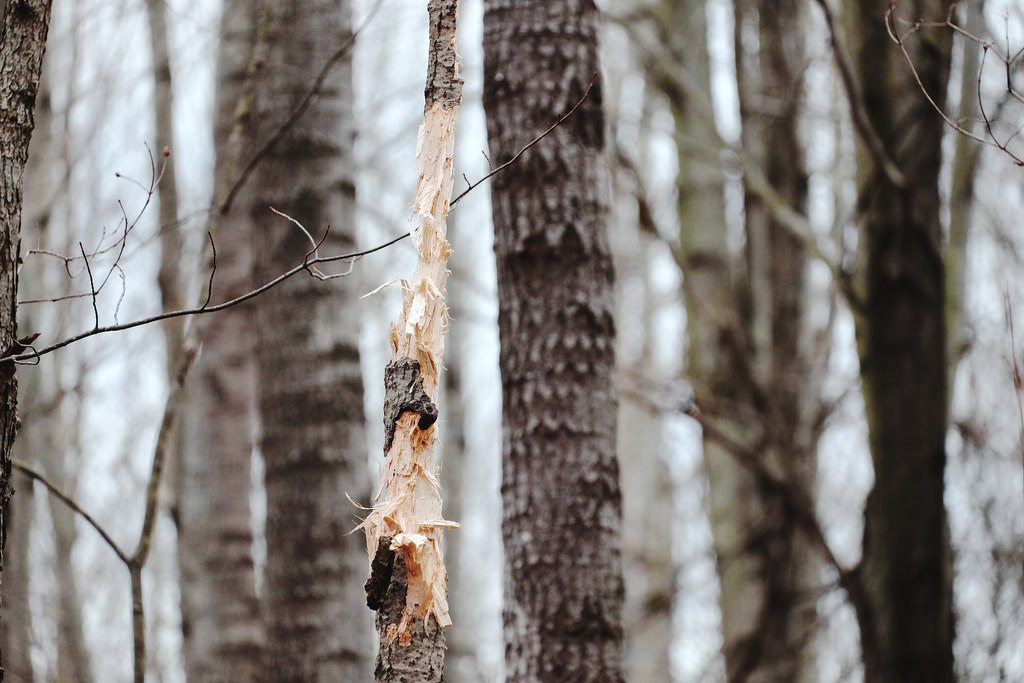 There is very, VERY little to see in the woods this time of year. The leaves are all down, the frogs, snakes and turtles have gone south for the winter (I'm joking), and despite the park being off-limits to hunting, the deer are taking no chances and laying low. I had a chance for an awesome shot of wood pecker perched on a nearby branch but my inability to raise the camera to my face without sounding like I was rummaging through a seventy year old woman's purse for a crispy stick of Freedent gum quickly scared it off. The best I could do is a few shot of some trees that have been molested by wood peckers.
I was glad I didn't let the rain and wind deter me from getting out of the house and satisfying some creative urges, but I have to admit I felt a little dirty using my car. I am so used to the process of rolling junk miles and snapping pics, the idea of using my car seemed strange, like I was cheating. Like that adulterous, car swapping couple in the park!.
As I type this Friday morning, the sun is bright and there's not a cloud in the sky. The winds are still strong, but not nearly as bad as yesterday. I think I'm going to try and brave them for a short ride on the Fatterson, especially since we're supposed to get a winter storm and up to five inches of snow during the day tomorrow. Oh Michigan… [sigh].
Later.