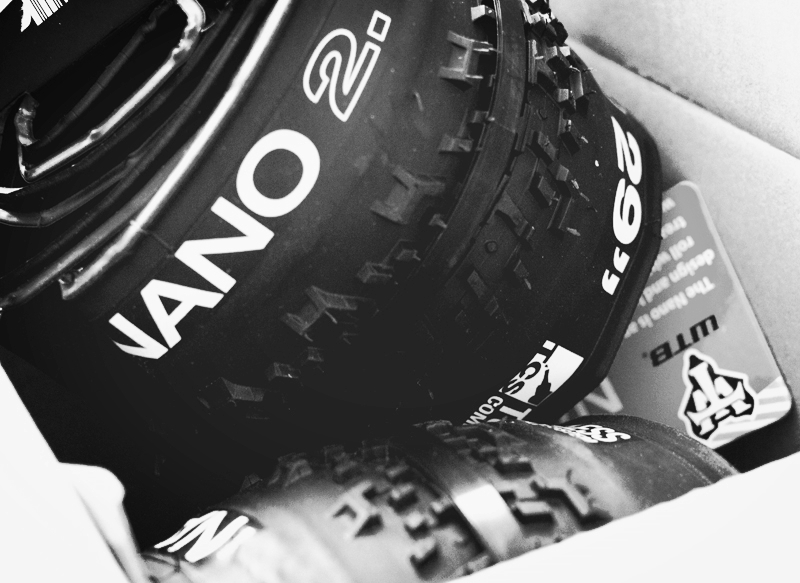 I took delivery of some new rubber today in the form of the WTB Nano TCS 2.1. I picked up the 700 x 40 version of the tires for the Jake The Snake late last fall and really liked the way they rolled on Michiganderburgh's shit pavement, dirt and gravel roads. Sadly, I am less and less enamored with using a that cross bike for dirt road and gravel riding/racing and have been turning to my 2010 Salsa El Mariachi 99% of the time. So I decided to pick up some tubeless ready Nanos for the coming season of shit road riding. The wider girth and tubeless compatibility should be just what I am looking for. Hopefully they will be just as at ease on  [dry] Michigan singletrack for days when I want to roll the hardtail.
When I picked up the studded 45 NRTH Dillinger 4 tires I remarked about how strange it felt to be dropping coin on studded tires on a 70˚ day in September. Before I knew it I was mounting the f'ers up so as to stay upright on the icy dirt roads. I sure hope the rest of this winter goes as fast as those last couple months of fall did! Unfortunately I don't foresee riding a bike other than my Farley in next couple weeks. Shit.
Oh well, hope to be out rolling dry gravel in the sun and trying out the new rubber soon. But I won't be holding my breath.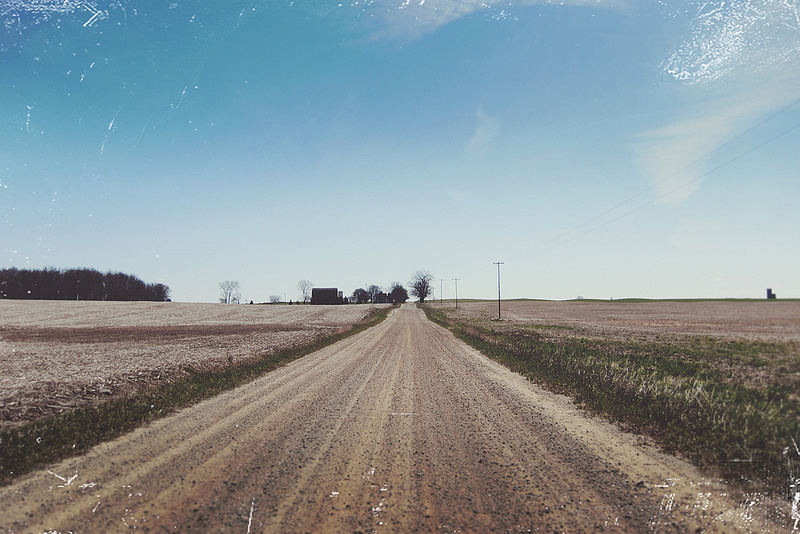 Beans & Balls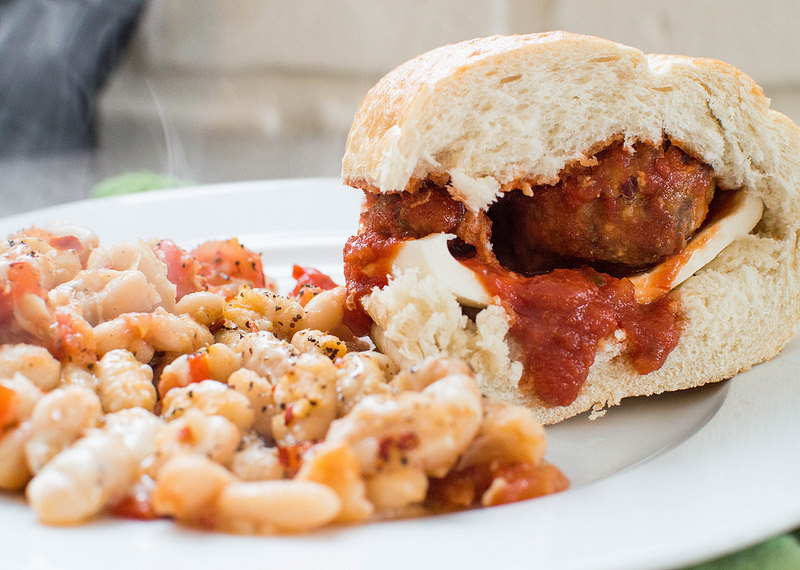 Just like last summer when I became obsessed with building a better burger [see The Soiled Burger Project if you have absolutely NOTHING else to do], I have recently become obsessed with meatball sandwiches. I have no idea why, because as a kid when my mom made meatball hoagies for us I always hated them. The obsession could have possibly been sparked when I saw Ina visit The Meatball Shop a few weeks ago…. but I'm not sure I want to admit I occasionally watch Barefoot Contessa.
While my obsession with balls (in meat form) is nothing new [if you're still bored see the post Soiled Balls], the meatball sandwich IS. I swear I have made meatball sandwiches for dinner at least three times in the past five days. Including last night when I made the addition of fresh mozzarella cheese to the sandwich and Tuscan White Beans for a side. Both were good choices.
I don't see the obsession slowing down anytime soon, as The Meatball Shop Cookbook is due in the house tomorrow. There is more balling in my future, good thing I've started cutting back on the beer and upping the intensity of my workouts. And don't worry, I won't be doing a Soiled Ball Project!
Whore's Chicken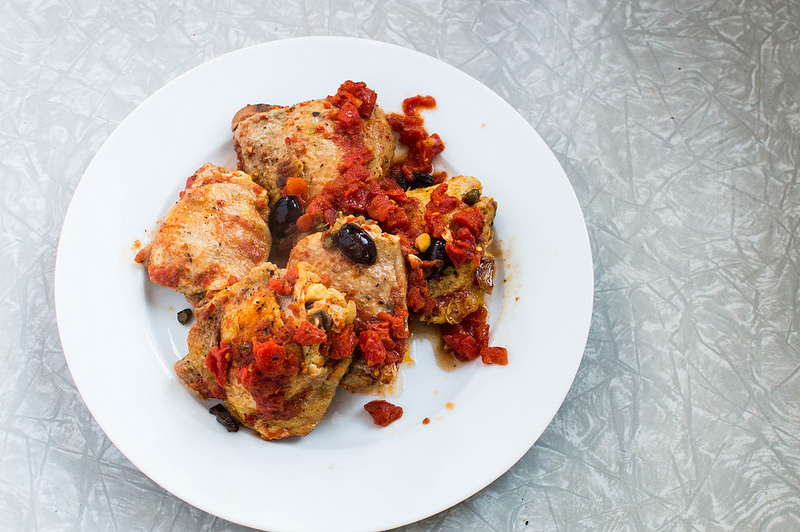 Another recent obsession (along with waiting for the snow to melt and meatballin') is the discovery of the dish Pollo alla Puttanesca. Yet another recipe I found on the site cocodemama.com. I have always been a fan of Spaghetti alla Puttanesca, which is also known as "whore's spaghetti." You may remember it from the not so classic December 2013 blog post Crush Pasta II, I Like The Translation. Like the whorish spaghetti, the chicken has all the zesty, big, spicy flavors that I like in Italian cooking.
Oddly (just how I used to hate meatball sandwiches), I also pretty much hate the idea of chicken (especially chicken breasts) with anything even remotely resembling a red sauce (wing sauce doesn't count!). This recipe is a bit different, as it calls for a whole chicken cut up and of course I felt the need to deviate a just a bit and opted to JUST use bone-in chicken thighs. Turns out they were perfect for the dish and with this sauce.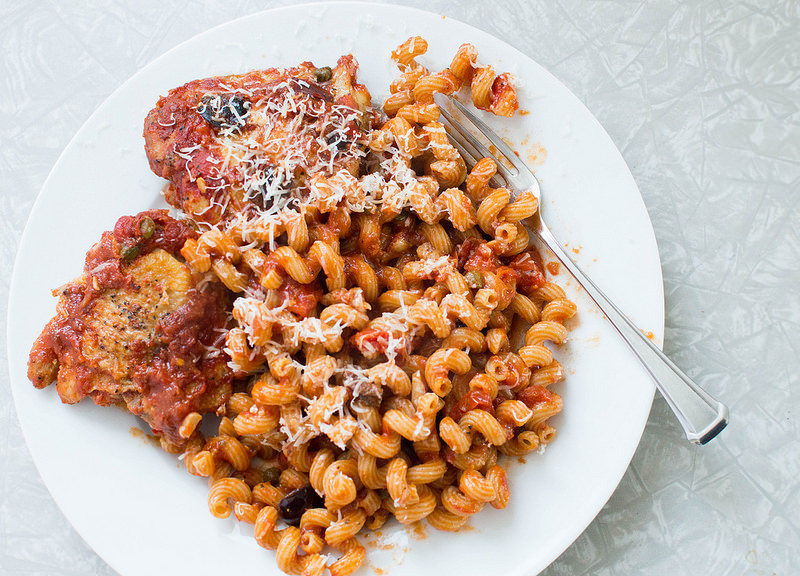 The red meat of the thighs just falls off the bone and the sauce is freaking awesome. Today I also added a GIANT handful of diced cherry tomatoes to the sauce and cooked up a bit of whole wheat pasta to have on the side with the leftover sauce. I hated to waste all that spicy, salty, tomatoey goodness and its gentle, tasty nod towards whorism (I know, I know, it's not a real word).
Really hoping that I can deviate from this now week-long dinner obsession with meatball sandwiches and Pollo alla Puttanesca. Oh well, at least it's pushing me to work out harder. Who knows, maybe I found the secret to early season fitness on the bike? I doubt, but we won't really know until the snow melts, I get those Nanos mounted up and out on the roads to do some real riding on a bike with tires that in no way resemble the gelatinous, girthy mass above my waistline that flops like a water balloon when running on the treadmill.
Later.