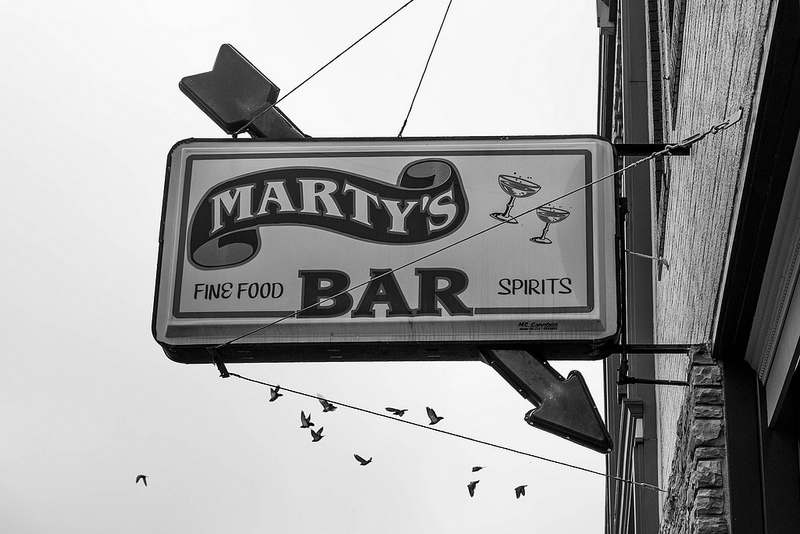 Since I am not one to keep quiet (in the blogo-shere) even when I have nothing at all to say, I am putting up this post. Lucky for you there's not much to it except some bitching about crap weather and some photos from around greater Michiganderburgh and food in my kitchen.
I knew going into this weekend that unless I got up at the ass crack of dawn on Saturday, my only day to ride would be Sunday. B had an away match Saturday afternoon, so most of the day would be spent driving and spectating. It didn't really matter that much since the winds were gusting and the rain was pissing down all day. Perfect weather for sitting in a chair watching U12 soccer.
Sadly, the same weather would be around most of Sunday and into Monday as well. Other than a short walk around town on Sunday, I've done nothing in the way of physical activity since Friday (unless you call hauling loads of laundry up and down the stairs physical activity).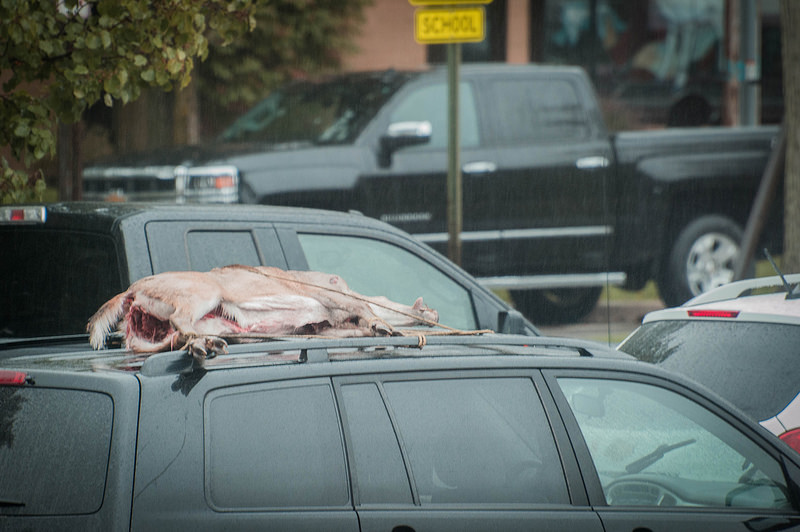 I woke up Sunday morning, looked out the window and was greeting with more rain, and the site of a deer carcass strapped to the roof of a car in the church parking lot next door. I guess it was Bring Your Rain-Soaked Deer Carcass to Church Day at Sacred Heart.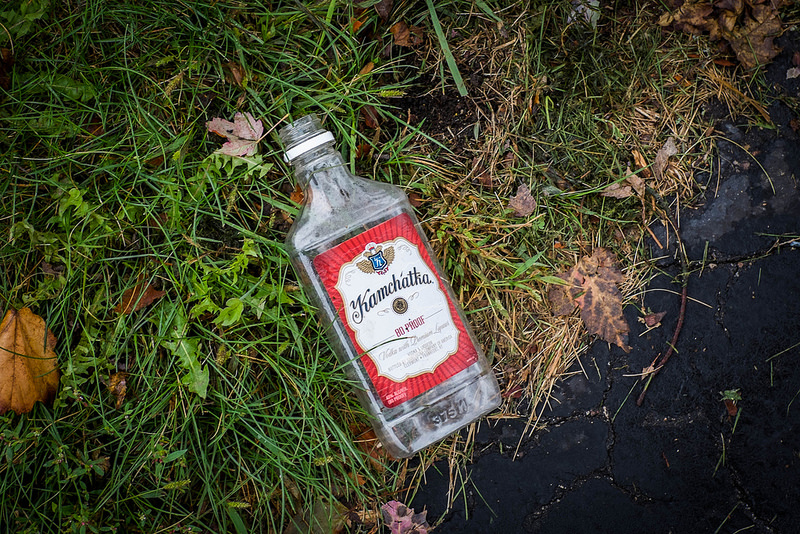 Saturday was CMU's homecoming, so Sunday's walk featured more than a few remnants of the previous day's revelry. Mmmmm… Kamchatka. Never heard of it, but it's in a plastic bottle, so it must be good.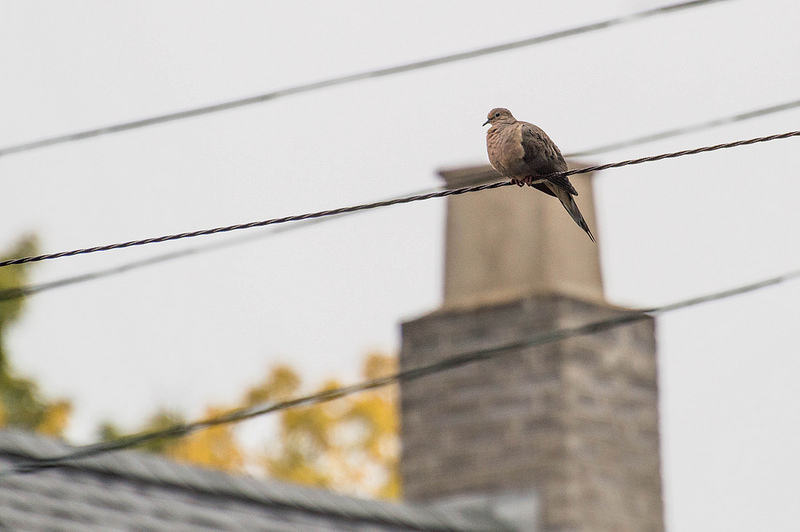 I spotted this Mourning Dove chilling in the rain this afternoon while I ate lunch. It doesn't look like it's in mourning, but the rainy, shit day would have been the perfect backdrop to mourn.
Speaking of lunch…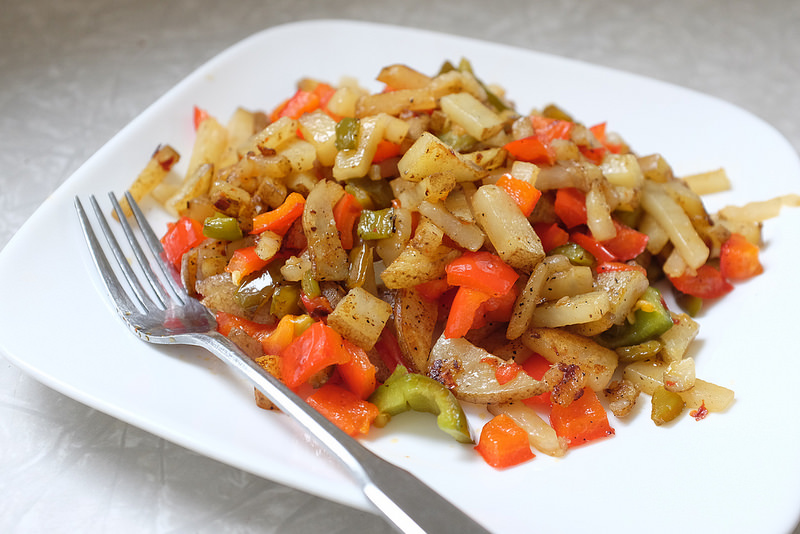 The gray sky, rain, and  chilly fall air had me wanting some comfort food. So I made up some Spicy Fried Potatoes & Peppers for lunch.
Then come dinner time, my belly and I were still in the mood for some more carb-tastic comfort food, so I went with an old standby:  Ground Turkey & Spinach Meatballs & Pasta. AKA Soiled Balls.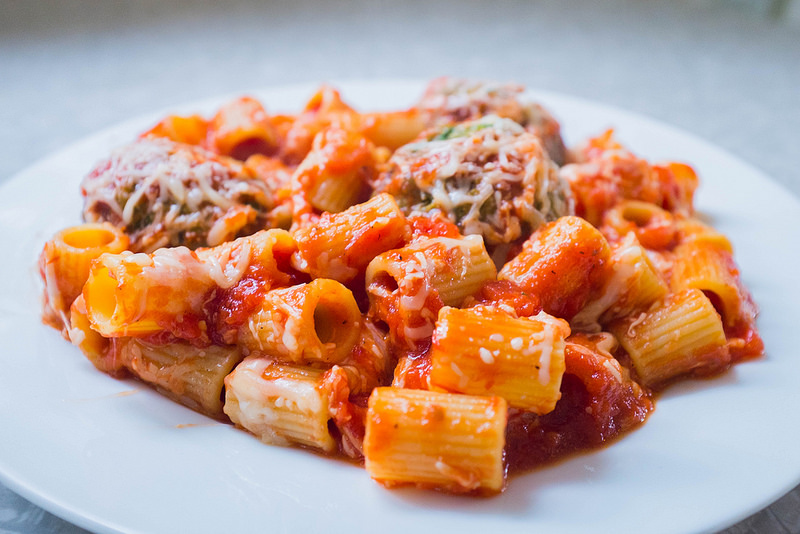 It's been a while since I made up some Soiled Balls (of the turkey & spinach variety) and they were just as good, if not better, than I remember. One thing I've been doing differently lately when in comes to making white trash Italiano, is making my own sauce; sort of. It's pretty much my take on the Ten Minute Marina Sauce recipe found on justataste.com. The sauce is so simple, so good and tastes better than any jarred sauce I've ever had. I add a good deal of red pepper flakes and some Mrs. Dash Italian Seasoning, but other than that pretty much stick to the recipe. It's such a blank canvas of a sauce, it really gives you a lot of leeway when cooking it up.
The rest of the week looks pretty good for riding, so hopefully this is the last REALLY crap post of the week. Future posts should be back to regular ol' crap.
Later.